On this page you will find a number of Masons explaining why they wanted to become a Freemason and their experiences after joining our  organisation.
Louis Spencer Age 34 - Embracing the Freemason Journey
A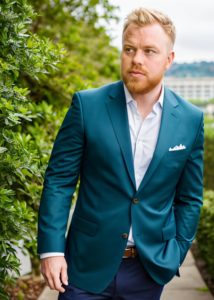 fter years of researching and uncovering the mysteries surrounding Freemasonry, I made a life-changing decision—I became a Freemason!  The realization that some people I knew were already part of this ancient fraternity ignited a spark of curiosity within me, propelling me further down the path of discovery. And oh, what a journey it has been!  Joining the Freemasons has brought an immeasurable amount of joy and a profound sense of belonging to my life.  The connections I've forged with my fellow Masonic brothers have surpassed any friendships I've encountered in my daily routine. These relationships go beyond mere acquaintances—they are a network of kindred spirits who uplift and support one another, creating bonds that transcend the ordinary. But Freemasonry is more than just friendship; it's an avenue for personal growth and development. The principles and values upheld by the organization have guided me on a path of self-improvement and ethical living.  The rituals, teachings, and symbols within Freemasonry have provided me with a framework for introspection and a deeper understanding of life's profound questions. It's like a mental gym, constantly challenging me to explore new ideas and expand my intellectual horizons. Moreover, the rich history and traditions of Freemasonry have captivated my imagination.  Engaging with the symbolism has allowed me to immerse myself in a world of ancient wisdom and timeless philosophies. The pursuit of knowledge within the Masonic fraternity fuels my intellectual curiosity and grants me a unique perspective on life's intricacies.  In a world where meaningful connections are sometimes hard to find, Freemasonry has become my sanctuary—a place where I can grow, learn, and find solace among genuine friends. The support, camaraderie, and shared values have transformed my life, empowering me to be a better version of myself. If you've been yearning for something more—a sense of belonging, personal growth, and a community of like-minded individuals—I encourage you to explore the beautiful mysteries of Freemasonry. Who knows, it might just be the missing piece you've been searching for! 
At nearly 34, Louis is married to Jade and has two children aged 4 and 1, and works in the family business of Warehousing and Distribution.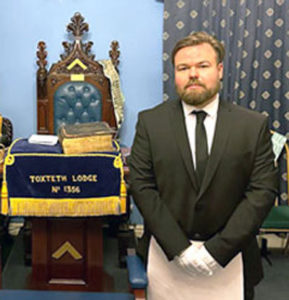 Hello, my name is Joseph Lynch, I became a Freemason in April 2023 and I am very happy that I took that step.
Freemasonry is something I've wanted to join for a while, but I've never had the chance to join. The Freemasons I've known in the past, I've had huge respect for and looked up to. I want to work towards becoming a better person and I believe Freemasonry will help me with that journey. I'm looking forward to working towards becoming a fellow craft and continuing that journey on to a master Mason. I'd like to get myself on the ladder, so that I can explore all the different officers in the lodge to becoming a WM. This will enable me to see more ceremonies as I progress.
On the night of my initiation into Adelphi Lodge No 6819, I was nervous a bit but soon released I had no need to be and settled down and enjoyed the ceremony. Four weeks after my initiation I had the chance to visit Toxteth Lodge No 1356 to witness an initiation and again I was a little nervous, however, the brethren of Toxteth Lodge made me feel very welcome and I had a great experience, just like at my own lodge.
The ceremony had some slight differences compared to ours at Adelphi Lodge. Some wording was slightly different, also part of the initiation was different to ours, so it was nice to see. It was great seeing another initiation. Especially with Shina coming from Pathway Scheme. The candidate had more bottle than I did.
There was a nice touch during the ceremony where Jonathan Rayman of Banks Lodge No 7213 did a very informative talk to a new brother about the initiation. Anyone thinking about joining Freemasonry should take a step out of their comfort zone and go for it.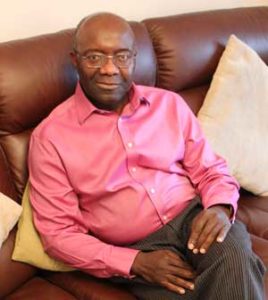 Hello, my name is Sylvester During, I was born in Freetown, Sierra Leone in West Africa. I am married to Annie and we have two grown up sons, both are doctors. One is a consultant surgeon and the other is a muscular skeletal specialist working with the England Football team.
I also have two grandsons. I worked in IT and education and I am now retired. I love the ritual and I also love the banter at the social board (meal after the meeting) and the camaraderie and friendship.
When I am asked how I got into Freemasonry, I reply Freemasonry has always been in my family whilst growing up in Freetown. My great uncle Jacob and his father were distinguished Masons as was my father Samuel.
I was initiated into Fallowfield Lodge No 3693 in 2003 which meets in Urmston, Manchester. I enjoy my Freemasonry very much, it has given me a sense of purpose and belonging.
Reflecting on my membership of Freemasonry I have met so many people across the many lodges, chapters and other orders in the Provinces of West Lancashire, East Lancashire, Cheshire and Birmingham who I am proud to call my friends.
Freemasonry has given me an additional means for putting back something into society, particularly through Masonic charities giving to the community.
I also play an active part in my community, which includes being a warden at Manchester Cathedral, secretary of the Cathedral Community Committee and a member of its Hulme Deanery Synod team.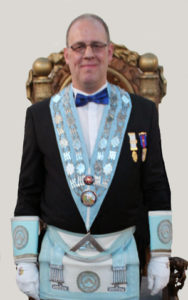 Hello, my name is Martin, I became a Freemason eight years ago, during this time a lot of things have changed in my life, I met my wife and got married.
I now have eight sons / stepsons, I have moved to Stoke-on-Trent and set up my own business. But the one thing that has always remained a constant is my Freemasonry.
During my years being involved in the various ceremonies has given me lots of confidence in Masonry and life. I have introduced one of my stepsons into Masonry and that was great privilege.
It means a lot that my stepson is following in my foot-steps, plus I get someone to talk to on my travels up to Ormskirk where my lodge meets. In 2019 it was our lodge's centenary year and it was a great honour for me to be allowed to be in the master's chair during this very special year. I love the fact that the members' ages range from my stepson who is 21 up to gentlemen in their 80s, it is great to see such a mixture of generations all together.
From the start of my membership I have visited many other lodges around the country and have always found a warm welcome and a friendly face. Even when you at first don't know anyone, within minutes you find yourself chatting with new friends. I don't know where else you would find that nowadays. Confidence, camaraderie and friendships are just a few of the things that Freemasonry has given me.
Zac Lewis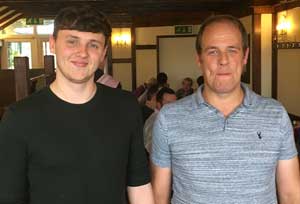 My name is Zachary (Zac) Lewis and I am 22 years of age and I was a third-year industrial design student, studying at Staffordshire University when I joined Freemasonry.
I grew up with quite a large family being one out of eight brothers. I believe this to be a huge motivator as I attempted to form my own personality and thrive as a working professional. With the help of my stepdad, Martin Stewart, I began to understand construction, assembly and general labour as I started work in his window and door business.
During my time working for Martin, he had discussed his love of Freemasonry and the work it does in the community. Martin was the WM of Lodge of Chivalry No 3974. So, after some time I asked Martin if I could join. He was more than delighted and I was grateful that he would allow me to participate in something that was so close to his heart.
It was for sure an honour and something I had thought about quite a bit. I am really proud to have become a Mason and join the brethren in all that define such a great group of men.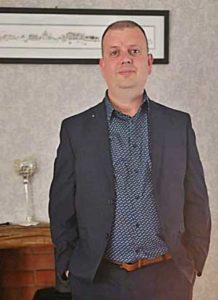 Hello, my name is Matt Woods and I am 43 years old. I currently work as a Project Leader for a Global Defence company.
I have been married to my wife Caroline for 19 years and have three children. My interests include football, rugby and walking and I enjoy watching cricket and golf, especially when it's the Ashes and Ryder Cup!
I have had the pleasure of coaching my two sons in junior football and until recently I was the child welfare officer of the same club, a position I held for seven years and one I enjoyed greatly as I got to interact with players of all ages, parents and coaches on a regular basis.
Although my uncle is an active Freemason, it is through sport that I eventually met my proposer, whose son played football for me at the time. When I eventually plucked up the courage to ask him about Freemasonry, he answered a lot of questions I had about becoming a Mason, what it involved, what it stood for and what it meant to him. It soon became clear to me that Freemasonry was about values, a way of life, about men wanting to become better people and who were committed to improving their society. This appealed to me as I had a strong desire in gaining knowledge that could make me a better person.
I was initiated in April 2018 and joined Hartington Lodge No 1021. As I have progressed I am gaining confidence and taking more involvement in the work in the lodge but at a pace which suits me.
I have enjoyed my journey in Freemasonry so far and have gained many new friendships, but I have also met up with old friends who I did not know were Freemasons. My one regret is that I didn't join sooner! I am looking forward to many more happy years in Freemasonry and hope if someone reads this, it gives them the confidence in taking that first step and asking about joining.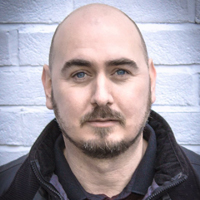 Hello, my name is Wayne Devlin and I am an entertainer and newspaper columnist from Manchester.
When trying to put down in words the reasons for me joining Freemasonry, the first thing that springs to mind is the fact that everything I'd be doing in lodge has been done in pretty much the exact same way for 100's of years by 1,000's of different people. I liked the thought that I would be doing the exact same thing and using the exact same words used by a man just like me over 300 years ago or more. I still love the thought of that. It also adds to the whole sense of belonging that Freemasonry brings.
I also love the instant solid friendships that I have formed from the very first time that I stepped foot into the lodge. It is fantastic that like-minded men from all different walks of life meet together in friendship and all on an equal, level plane. I also thought it would just be all much older men and was pleasantly surprised by the mix of all age groups.
I've always been passionate about charity work and have always strived to be useful in the community, to do what I can for charitable causes. So as soon as I learned that Freemasonry is the second biggest giver to charity behind the National Lottery, which is amazing as it's only Freemasons who donate and not the whole general public, I wanted to learn more about these kind hearted individuals who meet as brothers and do so much for their respective communities.
I am so happy that I did join, it has really taught me so much in such a short time. I have made lifelong friends and I'm learning new personal development skills and really improving myself as a person.