At their 2022 Burns Night, the members of Wyre Lodge No 7704 raised a magnificent £1,000 to support Isabelle Grundy who was diagnosed in July 2021 with a rare and aggressive form of childhood cancer; high risk, stage four neuroblastoma, which comes with a 50% survival rate.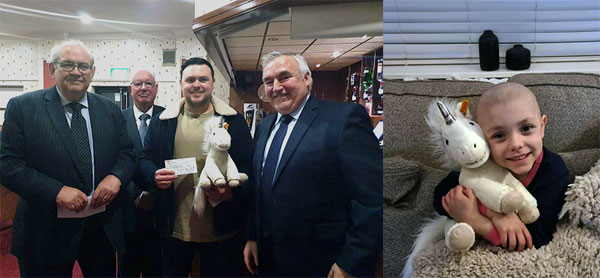 The members of Wyre Lodge asked the Deputy Provincial Grand Master Philip Gunning to present the cheque on behalf of the lodge to Isabelle's father Blaine. North Fylde Mason and WM of Wyre Lodge Martin Clements, along with a past master of Wyre Lodge, Danny Whalley, accompanied Philip on the presentation. In addition to the donation, on finding out that Isabelle loves unicorns, the lodge also bought her a Steiff unicorn, which she has since called Daisy, which Philip was delighted to present to her father.
Since diagnosis Isabelle has undergone a lot of intensive treatments, ranging from high dose chemotherapy, numerous cannulas, MIBG scans, CT scans, ultrasound scans, several blood and platelet transfusions, high risk surgery – only a small section of Isabelle's tumour was safely removed, stem cell harvest and transplant.
Once Isabelle has completed her treatment here in the UK, there is still a 60% chance Isabelle could relapse. If that happens, Isabelle's chance of survival drops to only 5%. The donation of £1,000 will be added to the money raised through the JustGiving website to help to raise funds in order for the family to travel to America for treatment which is not currently available in the UK. This will allow Isabelle to receive possible life saving treatment.
Blaine Grundy, Isabelle's father, thanked the brethren of Wyre Lodge who had shown their support, love and kindness towards Isabelle and her family, saying that they are eternally grateful to each and every one of them.