In 2019, the Warrington Masonic Group held a football memorabilia raffle which raised £800. This was donated equally between Walton Trauma Hospital and the Masonic Charitable Foundation.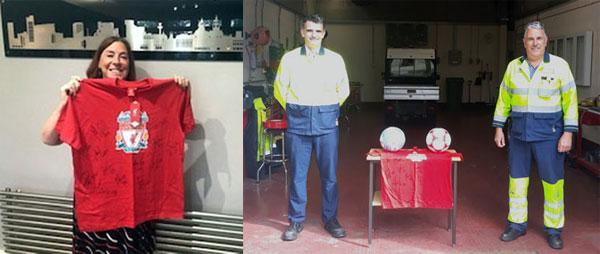 For the 2020 raffle, there were to be extra special prizes. A T-shirt signed by the Liverpool legends, a ball signed by the Liverpool squad on the evening of the European Cup final of 2019 and a ball signed by the Manchester City Premier League winning squad of 2019.
Then came COVID-19, and there wasn't going to be any Masonic raffle. So, Andy Barton (Warrington Group Chairman) decided that if he couldn't hold a raffle for the Warrington Masonic Group, then he would hold an open raffle, ably supported by his workmates in Solvay Interox, which would do just as well. Over two raffles, Andy raised £200 from the Warrington company and others. Some of his colleagues even made personal donations to boost the total.
Site Manager Craig Barraclough made the draw. The Manchester City ball was won by Paul Taylor, the Liverpool T-shirt was won by Patricia Milligan and the Liverpool ball was won by Joe Cafferty.
Special thanks must be given to James Corcoran for providing the raffle prizes and all of those in Solvay Interox and elsewhere who donated so generously.
A total of £200 was raised, which will be given to the Masonic Charitable Foundation COVID-19 appeal.
Story and pictures by Andy Barton.