On a report, Assistant to the Provincial Grand Director of Ceremonies David Boyes announced that Assistant Provincial Grand Master Robert Duncan Smith demanded admission.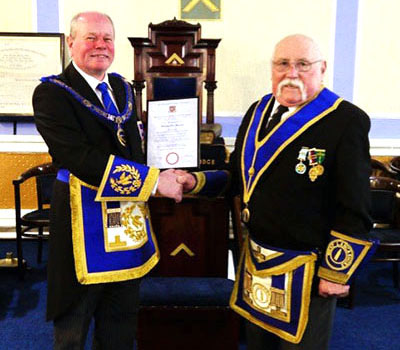 Thus, the celebration of William Eric Barrow's life and 50 years in Freemasonry began. The assembled brethren were kept enthralled by the tales enfolding from Duncan whose extensive research into the celebrant gave everybody attending an insight into William's early life in Blackpool and beyond.
William Barrow's Masonic story started in 1967 when on 29 October his name was put forward at a Great Marton Lodge No 3985 committee meeting as a potential candidate and he was subsequently accepted and put on the list of candidates for the Masonic year 1971 – 1972. He was initiated into Freemasonry on 15 March 1971.
In the fullness of time, he was installed as WM of Great Marton Lodge on 4 February 1999 at the Imperial Hotel, Blackpool, being installed by Rod Holt. The address to William was given by his son Matthew. The representing officer was William's school friend at Blackpool Grammar School, sadly departed Past Assistant Provincial Grand Master Terry Hudson.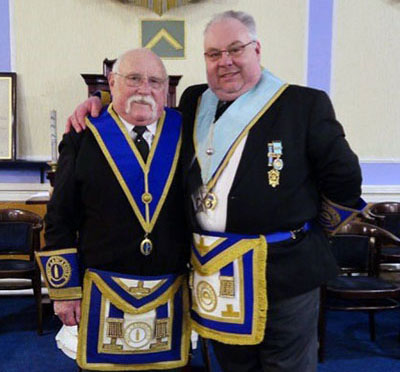 After serving many years as an active member and lodge officer William was promoted to the very high rank of Past Provincial Junior Grand Warden in appreciation of his work and dedication to Great Marton Lodge and Freemasonry in general.
A most notable event was the initiation of his son Matthew on 3 March 1994 where the proud father presented and explained the working tools of the first degree to his son.
Describing William's early life, Duncan related stories from his past. William attended Blackpool Grammar School where he met Terry Hudson; a friendship that endured until Terry's sad passing to the grand lodge above.
After leaving full-time education William was conscripted into National Service, serving in the Royal Air Force and, after returning home, he worked in the family market garden business for many years.
After the business closed in the mid 1980's he diversified into financial services and by the early 1990's he had set up his own financial services business where he remained until his retirement in 2007.
Music has always been an important part of William's life, first setting up a skiffle group with his friends at the local youth club; although William is best known for his jazz music and as a member of the Fylde Coast Jazz Men playing throughout the north west. William is currently an active member of the Wyre Levee Stompers. His musical skills on the banjo and guitar were also put to great use at lodge socials and Old English Nights.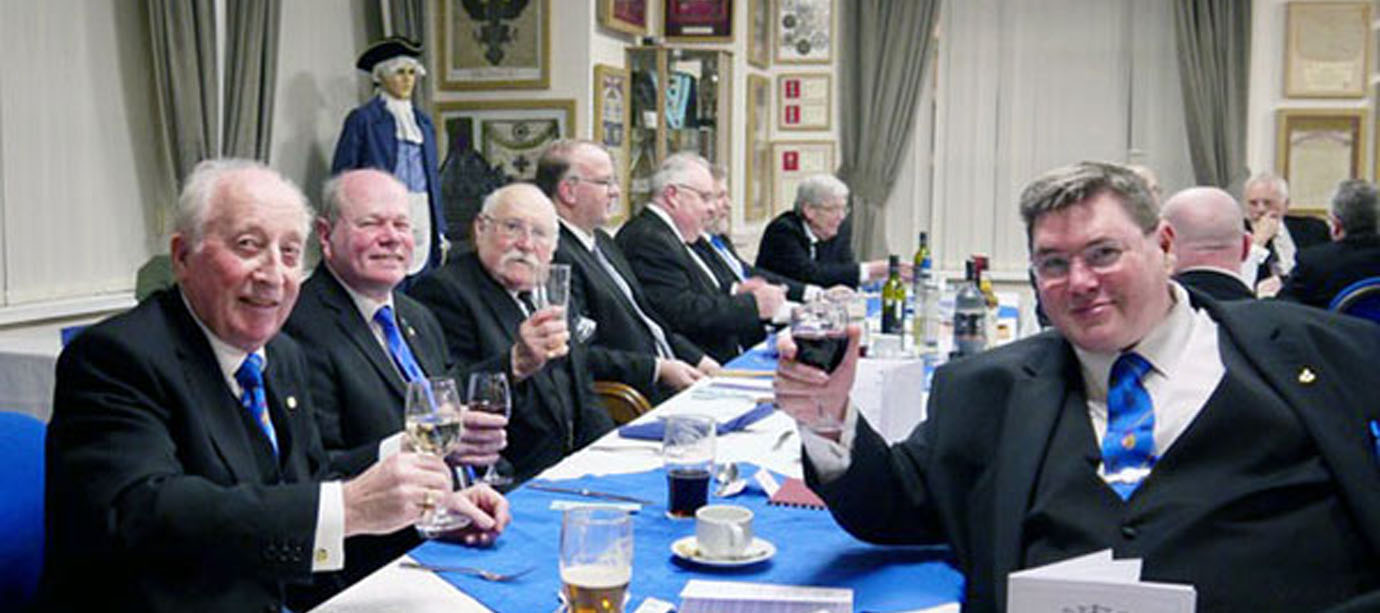 Over the years William Barrow has had a varied and wonderful life and on the evening of celebrating his golden jubilee in Freemasonry all the brethren present wished him many more years of health and happiness.

Story and photographs by Gordon Ivett.