When the call went out from the West Lancs Province to support local foodbanks and charities, it didn't take long for the Wigan Group to get the wheels turning again on what had been an extremely well organised and well supported machine during Christmas 2020.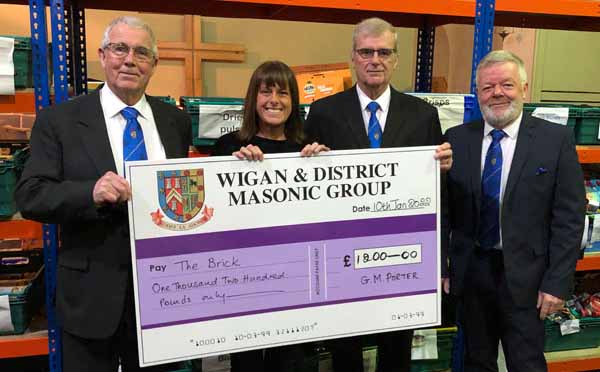 Vice Chairman of Wigan Group John Selley and group secretary Chris Reeman under the instruction of the group chairman Geoffrey Porter organised the team again and utilised Ashton Masonic Hall, Bryn as a base.
With the hall being fully utilised for Masonic meetings the dining room couldn't be used for storing food and toys and so it meant a great deal of visits by members in cars to deliver parcels to the charity centres in Wigan for distribution.
Once again, the Wigan Group aligned itself to 'The Brick' and the 'Wigan and District Church Food Appeal' who serve the whole community, ensuring that those families that were in need during Christmas and New Year, received food and other domestic necessities as well as toys for the children.
John and Chris got the ball rolling with a substantial first shop with some of the money donated and further shopping was carried out by John, purchasing particular needs of the charities. John Selley said: "The group executive officers are delighted with the response within the group and thank all those that have donated." He also thanked the staff from a local primary school who donated food and gifts after hearing once again about the appeal from his own daughter for a second year.
The lodges, chapters, individuals and West Lancs Freemasons' Charity have donated in excess of £2,800 with the Wigan members donating in excess of £4,500 of food and in excess of £500 in toys and gifts with 150 hampers containing tea, coffee, milk, sugar, biscuits, and chocolates being donated to the Wigan Church food appeal.
John said: "A remaining £1,000 has been set aside for food which the charities believe they will require in the new year and with the festive period over, it will be back to necessities to support those in need in 2022."

By Ian K Dawson, Wigan Group Publicity Officer.