The sun was shining and it was a beautiful Sunday afternoon at St Matthew's, Highfield, when Freemasons from around Wigan and district began to arrive with their families to celebrate the annual church service and re-dedication.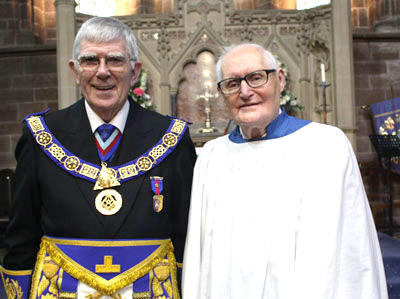 The guest of honour was the Mayor of Wigan, Mrs Yvonne Klieve, accompanied by her consort who was welcomed into the church by Provincial Grand Master Tony Harrison and Wigan Group Chairman Geoffrey Porter.
For many years, the annual church service has been a great occasion for member's families to join with their husbands and partners to meet other families from the group and as they have not met for two years it was a chance to renew old friendships.
Bert Stockley once again, in fine form, lead the service and after readings by David Ogden and Geoffrey Porter, the congregation joined together to sing some of their favourite hymns before Rev Godfrey Hirst, Third Provincial Grand Principal, addressed the congregation with his uplifting and thought-provoking sermon.
A collection was held and the congregation donated generously towards church funds. Before the final hymn and procession, and on behalf of the group, Geoffrey Porter introduced Wigan Group Charity Steward Ian Green who presented the Mayor with a cheque for £300 towards the Mayor's charities.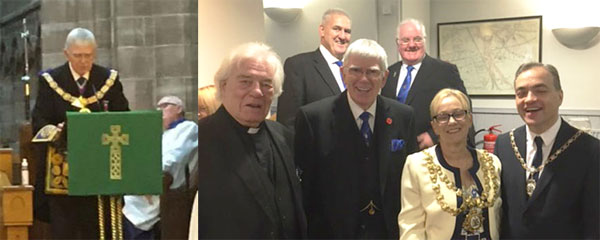 With the recessional hymn, the Provincial officers and acting officers accompanied by the group officers lead the congregation in procession out of the church and on to the parish hall for light refreshments.
At Bryn Masonic Hall shortly afterwards, the members, families and friends joined with the Provincial and group officers to welcome the Mayor, Yvonne Klieve, and her consort at a dinner prepared by stewards Christine and Philip, and supported by their staff.
Geoffrey Porter thanked everybody present for their help through the afternoon and also the Provincial Grand Master and his wife for their attendance.