Wigan Group Chairman John Selley and the rest of the group executive were delighted to welcome the Mayor of Wigan Councillor. Kevin Anderson to the Annual Church Service held again at St Matthew's Church, Highfield, Wigan.

A very warm Wigan welcome was also extended to the Deputy Provincial Grand Master Philip Gunning and a number of other grand officers. The procession into the church was a magnificent affair with a large number of acting Craft and chapter Provincial grand officers present, all looking splendid in their regalia, as indeed were the rest of the Masonic brethren present. The whole procession was accompanied by the tumultuous organ skills of Karl Greenhall which very nicely set the scene.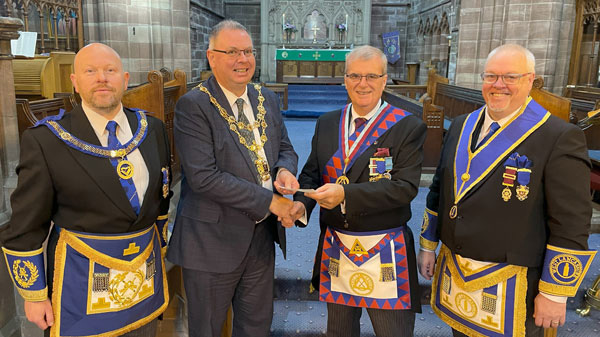 In charge of the service was Godfrey Hirst, who delivered a rousing, passionate and thought-provoking sermon which invited the congregation to try and undertake things not according to 'my way' or 'your way' but by 'the Good Lord's Way', 'The Way' or according to your God.
He also commented on how, on a visit to World Space Day, it resonated with him and reminded him of omniscience, omnipotence and omnipresence in addition to love, compassion and kindness. The way. kindness was emphasised as a constant part of our lifestyle, quoting Caroline Flack: "In a world where you can be anything, be kind", and also Mother Teresa: "Let no one come to you without leaving better".
In closing, the congregation were reminded to make small changes with compassion, act according to the Good Lord's Way and spend time being kind and compassionate.
The first reading, Psalm 103:V8-13 Colossians Ch3 V.12-17, was delivered thoughtfully by Wigan's own Assistant Provincial Grand Master Malcolm Bell, with the second reading recited most eloquently by Jonathon Lever from Hindley, Matthew Ch.15 V.32-38.
A £500 donation was presented to Councillor Kevin Anderson for his charity, which he received with gratitude. A cheque for £250 also presented to St Matthew's, Highfield and £50 to the church ladies for their help with the tea and biscuits.
Following the procession at the end of the service, the congregation retired back to Bryn Masonic Hall for an absolutely sumptuous meal courtesy of Phil and Christine at which was very well attended.