A gloriously sunny Sunday welcomed the members of Widows Sons who had a ride out to Cleveleys Masonic Hall. The event was organised in conjunction with Damon Tait of Mount Lodge No 6654, a motorcycle lodge. These leather clad heroes of the highway were not just coming to Cleveleys to enjoy the sun but to present a cheque for £200 raised for Cleveleys' Mason Peter Maxwell's granddaughter who suffers with Batten disease.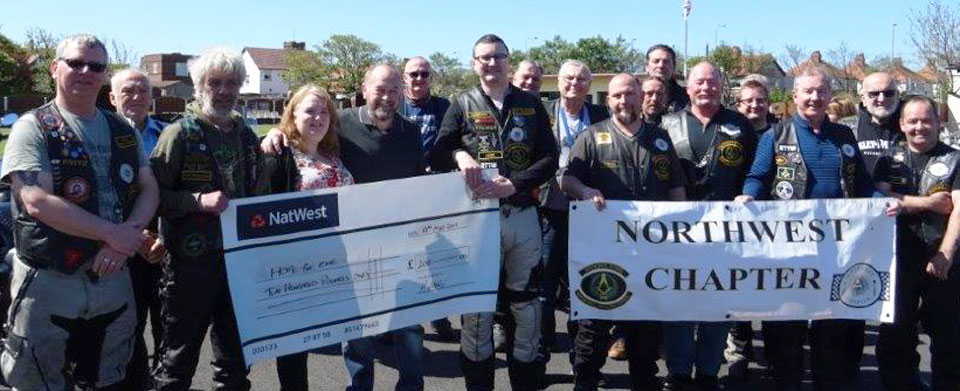 Ian Wilson has known Peter and Julie for about four years through Damon and Alison Tait whom he had met through motorcycling. He was really saddened to learn of Evie's diagnosis. He had planned for the chapter to do a 'Pier to Pier' run last year (riding west to east) and back again in a day visiting as many piers as possible, the money raised was to be donated to Help for Evie. Sadly it had to be postponed, but the ride will happen in the very near future. Peter has got to know a lot of the North West Chapter members through biking, social events and lodge meetings and the chapter felt it only fitting to help out with a charitable donation to Evie's cause. Peter and Julie were not aware of this hence they were very moved by the donation.
With the presentation over, the members and guests retired to the club for a fabulous breakfast supplied by the Park Club's new caterer Lee Williams. This year they have started to have a regular breakfast meeting on the second weekend of every month (usually Sunday) and the format is ride, eat and ride or similar. They try to alternate locations because membership covers all of the North West. Although they don't yet have many members from the Fylde coast, there are several waiting to join. The breakfast meeting on Sunday was also to show their support for Mount Lodge, which has also been saved from closure.
The Widows Sons Riders Association was started in America in the 1990's. There is some conjecture as to exactly when and where the first chapter was formed but 1998 in Illinois is the usual date and place credited with its beginnings. It was started by motorcycling Masons specifically to help and support widows and orphans. There are 150 chapters across the USA and Canada. In 2004 the Widows Sons Masonic Bikers Association was formed in UK. Once four chapters had been founded, the President's Governing Board was set up and this now administers all UK activity. Although close links are maintained, the UK Widows Sons Masonic Bikers Association is independent from its USA cousins. The WSMBA have 19 chapters throughout the UK with nearly 1,000 members in total. This year the WSMBA celebrates its 15th anniversary and they have raised a significant amount of money for charity over the past 15 years.
In 2011 the North West Chapter started with eight founding members currently there are 51 fully 'patched' members with more waiting to join. There is a support group called 'The Bad Pennies' (they keep turning up like a bad penny as the saying goes) which consists of wives, partners, non-Masons and prospective new members and friends. If any motorcycling Mason would like more information about the NWC they can contact Iain Wilson (vice president and secretary) via email: iainmw72@yahoo.co.uk
The North West Chapter has rescued a Craft lodge and a Royal Arch chapter. St Helens Lodge of Loyalty No 897 is the oldest lodge in St Helens and was about to hand its warrant back in 2015, many of the members of the North West Chapter stepped up and joined the lodge to save it from closure. Similarly, Skelmersdale Waterloo Chapter No 1380 (now named The Bikers Chapter No 1380) was about to fold in 2016 and this too was saved. Both have significant membership and are continuing to grow. Meetings of each have moved to Saturday mornings during the months of March through to September so that the meeting can take place, a meal can be had and then members can ride to a suitable destination.

The chapter raises money through their subscriptions and sponsored rides which are often very serious challenges. One example is that they rode around the old county palatine border of Lancashire in 2017 to celebrate the tercentenary, 302 miles in a little under 12 hours and over £1,700 was raised. This year's main event is the Fireball Run 'Reignited' over the longest day of the year. Members will watch the sun set in Fleetwood and then ride overnight to Whitley Bay to watch it rise (west to east), this will hopefully raise a lot of money for Masonic and non-Masonic charities.