In March 2023, Ben Smith was initiated into Anfield Lodge No 2215 which meets at the Geoffrey Hirst Masonic Suite within Woolton Golf Club. Little did he know what was in store for him on the night he was passed to the second degree.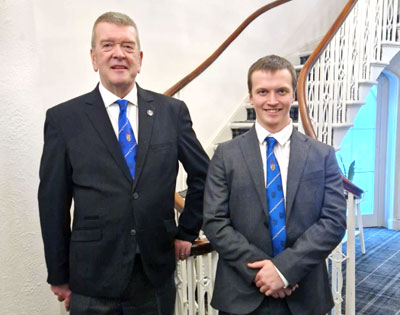 The lodge decided to make the night a past master's evening and afterwards hold a white table event, in order to invite some potential prospects from the Members Pathway, together with some 'lodge generated' candidates, to give them a taste of a Masonic festive board prior to them committing to hopefully joining Freemasonry.
There was a further twist for the ceremony in that the lodge decided to invite all reigning masters from Woolton and Garston Group to attend the event and if they wished, to take part in the actual ceremony, despite the obvious differences in ritual that may exist.  The offer to take part was also extended to any past master from other lodges.
There were several brethren who eagerly volunteered and the outstanding positions were occupied by past master volunteers from within the lodge, with only the WM and director of ceremonies occupying their own lodge positions. The following Worshipful Brethren occupied the positions as follows:- WM Gary Devlin (WM Anfield Lodge), IPM Alan Ledger (ADC Anfield Lodge), SW David Boyes (Master Elect from Lodge of Tranquillity No 3877), JW Andy Whittle (AProvGM of Anfield Lodge), JW (Substitution) Stephen White (IPM from Derby Lodge No 724), SD Stephen Lyon (JW Anfield Lodge), JD  Jim Campbell (assistant secretary from Yachtsman's Lodge No 3698), IG Phil Gambrill  (DC from Yachtsman's Lodge), tyler Stan Dawkins (past master Anfield Lodge), DC Chris Lyon (DC Anfield Lodge).
Regrettably, during the ceremony Andy Whittle had to withdraw and Stephen White who is the IPM from Derby Lodge substituted for him. Andy did manage to make it back for the festive board.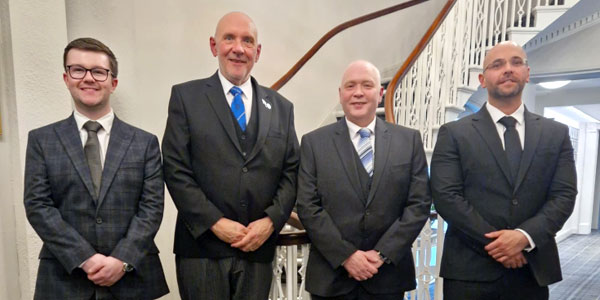 Explanation of second degree tracing board was given by Stephen Riley (DC from City Lodge No 2514. The ceremony was excellent, with faultless ritual from all participants, particularly the long version of the second degree tools and the explanation of the second degree tracing board, which several present had not seen previously. The brother passed to the second degree was Ben Smith, a prospect from the Members Pathway, who was initiated in March.
The festive board was attended by all the brethren and four non-Masonic guests. The festive board was enjoyed by everyone, which included; representatives of five different lodges, Anfield Lodge, City Lodge, Derby Lodge, Lodge of Tranquillity, Yachtsman's Lodge and Old Lerpoolian Lodge No 9270. There were four reigning masters in attendance from Anfield Lodge, Derby Lodge, Lodge of Tranquillity and Old Lerpoolian Lodge. Also present were three lodge generated candidates, from Anfield Lodge and Yachtsman's Lodge and one potential prospect from Members Pathway came with City Lodge.
There were 30 brethren in all and everyone thoroughly enjoyed the whole evening and it is hoped Anfield Lodge will be able to hold similar events in the future.