It is often said that Christmas is for children.  When people over the age of 40 are asked which Christmas was their favourite, many reflect back on their childhood years before picking one.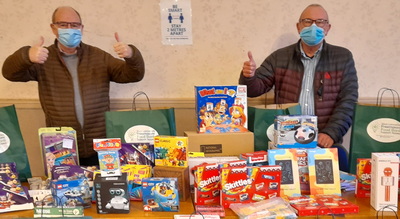 Things were very different back then, virtually no extreme poverty in the UK, no requirement for foodbanks and a benefits system where very few people slipped through the net, benefit sanctions would have been unthinkable. This meant that the majority of children in those days really enjoyed their Christmases, spending happy days with their families, eating lots of good food and above all, playing with their Christmas presents.
Every year the lodges and chapters of the Widnes Group make donations to fund a Christmas Party for members' children and grandchildren. Unfortunately, in 2020, due to the COVID pandemic, it was not possible to do that so instead donations were made to local foodbanks and charities.
The vicar of St Michael with St Thomas Church in Widnes, the Reverend Linda Riley-Dawkins and her church are known for being active in the community. They provide support for the Community Food Pantry which helps vulnerable families in the Halton area as well as working closely with children's charities.
Reverend Linda's church is now busier than ever working tirelessly to support vulnerable families, especially at weekends when traditional foodbanks are closed. She said that the food parcels which the Widnes Freemasons had provided, along with a cash donation of £250 to help buy fresh and perishable goods, would go a long way to directly support families in Halton that were in the most need.
In addition to donating the food parcels and cash, the Widnes Freemasons also provided funds to purchase over 100 separate children's gifts, some of which were specialised items designed to help children both with anxiety conditions and those who were on the autistic spectrum. Reverend Linda commented: "Well done to you and all your members for your generosity and time. I am sure that your thoughtful donations will bring joy to both adults and children this Christmastime."
Widnes Group Chairman Neil Pedder stated: "I am extremely proud of the way the Widnes Group of Freemasons has responded with such invention and thoughtfulness to support some of the most vulnerable in our community at such a difficult time."
Hopefully, in years to come, some of those children will be able to look back on this difficult period and remember how their families were supported by a local church and also by the Freemasons in the Widnes Group who together did their best to help make Christmas a special occasion for the children.