Following on from the success of the generosity of the Warrington Group where Glen Screeton and Neil Thomas managed to collect approximately 165 bags of donated food for the Warrington Foodbank, it was time to take the next step and make an application for a grant from the West Lancashire Freemasons' Charity.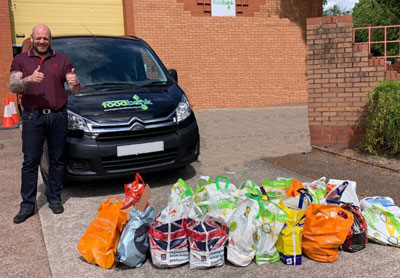 Shortly after the Warrington Foodbank story was published on the Provincial website, Glen received an email from Chris Eyre's, encouraging him to apply for a grant from the COVID-19 fund. Glen, being the Warrington Group Charity Steward, already knew the protocol and process for grant applications and with the full backing of the Warrington Group Executive, he completed the required forms.
Little did Glen know that in these unprecedented times, the COVID-19 fund moves very quickly, and with a couple of phone calls to the CEO of the West Lancashire Freemasons' Charity (WLFC) Steve Kayne, a grant of £5,000 was on its way to the Warrington Foodbank.
Glen commented: "I couldn't believe the speed and efficiency of the WLFC in getting the money moving so quickly to a very worthwhile cause, especially in these difficult times. The Warrington Foodbank are extremely grateful to the Warrington Group of Freemasons as always."
A firm relationship has now been established with the Project Manager, Dave McNichol, and the very dedicated people of the Warrington Foodbank, so much so that Neil Thomas still collects food bags from his non-Masonic friends, and Glen is a volunteer driver delivering bags to the people he collected for in the first place.
All this from the gem of an idea of collecting a few odd tins!
Story by Glen Screeton.