The Warrington Group Chairman's Dinner was attended by 74 Freemasons who enjoyed the company of the principal guests, Dr Robert Lomas, a writer, physicist and business studies academic, Barry Jameson, Second Provincial Grand Principal and Colin Rowling, Assistant to the Provincial Grand Principals.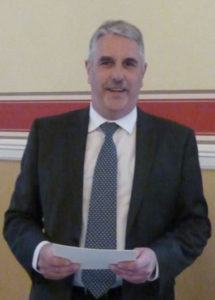 David Goddard, the acting DC, introduced Warrington Group Chairman Andy Barton, who welcomed all to the event and explained the evening was a change to the usual format and would be a little less formal. He continued by giving a special welcome to the three principal guests and to the brethren and companions present.
Before the meal was served Ken Smith, acting chaplain, offered grace and a three-course meal was then served by the hall staff. The menu chosen was: fan of melon with fruit coulis, a carvery consisting of two roast meats served with appropriate choice of vegetables and potatoes, followed by a selection of cheesecakes with pouring cream and the usual tea or coffee. The menu was well received by the assembled brethren and companions. Ken then returned thanks and Andy Barton proposed the loyal toast.

Andy announced that 10 new brethren were present along with one other who was in the process of applying for membership. He continued by saying that on behalf of the group he offered a very warm welcome to them and hoped they were enjoying their Freemasonry in general and this evening in particular.
Continuing, Andy commented that he wished to inform everyone that Chris Gleave, group vice chairman had retired and John Tyrer was taking over Chris' responsibilities. Andy thanked Chris for all his hard work over his time in office and wished him well for his future undertakings.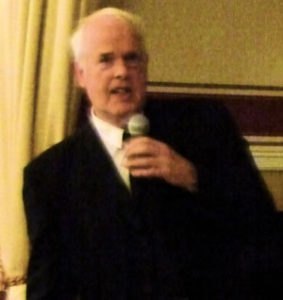 Concluding, Andy then introduced the principal guest Dr Robert Lomas, an eminent writer, specialising in Masonic history and said he was delighted to have him here this evening. Robert writes primarily about the history of Freemasonry as well as the Neolithic period and ancient engineering are included within his wide expertise.
Robert delivered a very thought-provoking talk entitled 'A physicist's view on the nature of a Supreme Being'.
A raffle was held which raised a magnificent sum of £348. Andy announced that the proceeds would be split two ways, firstly for the Royal National Lifeboat Institution and secondly the Masonic Festival.
The evening was brought to a close by David Anderson proposing the tyler's toast.