A community bench, generously donated to the people of Urmston, stands as a heartfelt gesture from numerous Freemasons who gather at Urmston Masonic Hall. Spearheaded by the creative mind of Eddie Wilkinson of Flixton Lodge No 4869 and South Eastern Group Secretary, this remarkable endeavour serves the dual purpose of benefiting both Freemasonry and the local community.

The essence of this donation encompasses two key elements. Firstly, it provides an ideally placed town centre situation for residents to rest and unwind following their shopping escapades, while awaiting transportation or simply taking a moment to rejuvenate.
Secondly, the bench, adorned with the emblematic square and compass and gold 'South Eastern Group' and 'Province of West Lancashire' lettering, symbolises a bridge of friendship between the Freemasons and the community. A lasting emblem, it serves as a constant reminder that the local Freemasons stand ready to serve and support those in need within their community.
A subtle plaque gracing the bench reads: Province of West Lancashire, South Eastern Group. This bench has been gifted to the local community by the Freemasons who meet at Urmston Masonic Hall. "Please have a seat."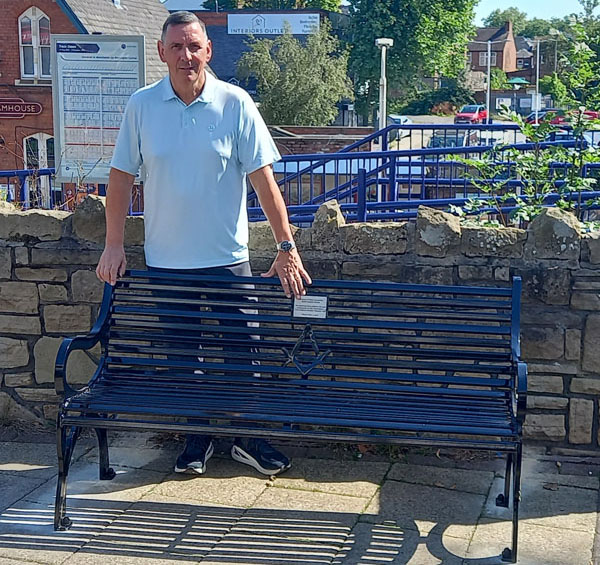 Nestled along Flixton Road in the heart of Urmston, the bench finds its place adjacent to the railway station wall, nestled between the station entrance and the bustling crossroads and taxi rank. Its central location ensures not only its visibility to residents but also to all who traverse the town or explore the vicinity.
Eddie not only orchestrated and executed this visionary initiative, but also rallied Urmston based lodges to assist in raising the necessary funds for the bench's creation and transportation from its Scottish origins to Urmston. With the benevolent support from some of the lodges and indeed a number of individual member donations and the gracious assistance of Trafford Council, who kindly facilitated the installation at their own expense, the project exudes a profound sense of communal collaboration.
Members from Urmston Masonic Hall can be proud in the knowledge that those unwavering contributions have enabled the realisation and accomplishment of what is consider a remarkable undertaking.
During the installation process, numerous individuals took a pause to extend their congratulations to the local Freemasons for this heart-warming gesture. Among them, an elderly gentleman was particularly taken aback, expressing his admiration. Intrigued, he inquired about the possibility of learning more about Freemasonry, as he too felt a strong desire to contribute positively to the community.
Eddie Wilkinson said: "This particular community effort has been a long time coming and goes a long way hand in hand with our current drive toward meeting the community of non-Masonic individuals to raise our Masonic profile and at the same time, raise public interest in Freemasonry, something our fraternity have endeavoured for many years."
Eddie continued: "Being a past publicity officer and a membership officer with an objective of trying to get through to the community, I know we can write interesting editorials that may just plant a seed of interest in the non-Masonic reader, but this bench is literally a permanent community fixture and long may it continue."