The November meeting of Tyldesley Lodge No 2572 was a truly educational affair when Derek Bond delivered a lecture entitled 'The origins and development of lodge (tracing) boards'.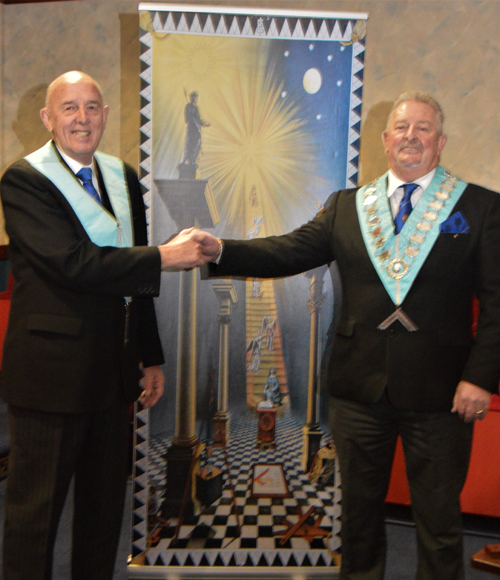 A very well researched lecture, Derek started with the opening words of the oration given by William Preston in 1772, when he introduced the first of his Masonic lectures. This starts: "It is not my intention to enter into an elaborate discourse concerning Masonry, that task far exceeds the limits of my abilities. I shall only venture to submit to your serious consideration a few observations".
The use of these 'educational' tracing boards started with William Preston and his three great lectures, one for each degree. He taught them, and worked them, as part of a cadre of late 18th century Masonic scholars, philosophers, and entrepreneurs. They wrote their own versions of the lectures, and illustrated them by using a new-fangled teaching aid, the tracing board.
Tyldesley Lodge arranged for three large pop up banners to be produced with the tracing board images printed on them, so that the tracing boards could be easily seen from any position in the lodge room. These are the lodges new-fangled teaching aids!
The three banners were financed with a very generous donation from Sheila Howcroft, who continues to support the lodge, in memory of her husband Norman Howcroft.
Derek's lecture was received by 41 brethren and was quite rightly greeted with praise. Among the visiting brethren were Jeremy Dootson and Melvin Lomax from the Eccles Group who presented Derek with a copy of a booklet that they had been heavily involved in producing entitled 'Architect Lodge 1375 Floor Cloths'.
Derek has caught the bug now and will deliver another lecture at Tyldesley Lodge's January meeting entitled "An Anthology of the Third Degree Tracing Board". This will also be delivered with the visual aid of another large Tracing Board pop up. It would be nice to see a full lodge room for what promises to be another oral and visual spectacular.
Photograph and story by Swainson Eckersley.