Brethren of Tyldesley Lodge No 2572 held their first meeting of the new Masonic season, and after opening the lodge, the minutes from their last meeting were read and declared a true and correct record.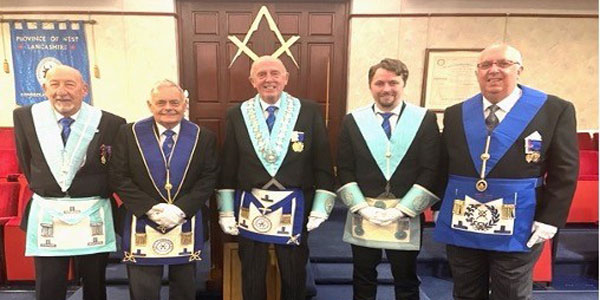 The next item on the summons was a ballot for a new candidate for initiation, the proposals didn't stop there as three brethren were proposed as joining members. To everyone's delight the ballots was unanimous in favour of all the candidates.
Duncan Hopkins, the director of ceremonies of Tyldesley Lodge, asked for permission to retire from the lodge and after a short time, he escorted the new joining members into the lodge room. Derek Bond, the WM, gave them a collective warm welcome and they each found a seat in the lodge.
Stuart Hughes, a grand officer, responded on behalf of all the candidates and thanked the brethren of Tyldesley Lodge for the confidence that had been placed in them.
Next item on the summons was to elect the various officers of the lodge for the forthcoming year. Johnathan Battersby was confirmed as master elect and responded to his election with enthusiasm and just a little trepidation. Johnathan will be installed at the installation meeting in October.  All the members of the lodge wished Johnathan a fantastic night on his installation.
The meeting ended with a friendly and welcoming festive board as the start of the new Masonic season certainly looks brighter.