The 157th installation ceremony of Lodge of Triumph No 1061 took place at The Palace, St Annes-on-Sea, with 45 brethren in attendance. The WM Mike Boxall and his Lodge of Triumph team delivered a splendid ceremony of installation and made it a night to remember for master elect and senior warden, Edward Oldfield.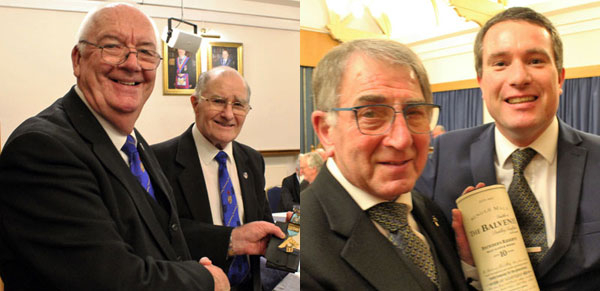 Mike Pinckard was the representative of the Provincial Grand Master Tony Harrison and he was accompanied by the South Fylde Group Vice Chairman, Ben Gorry and the group secretary Ian Park.  The lodge was also very pleased to receive Past Assistant Provincial Grand Master David Randerson and grand officer Peter Greathead.
During the festive board Mike Pinckard congratulated all the lodge officers who made the ceremony and the evening such a great success and a memorable event for Edward Oldfield. In particular, the immediate past and installing master Mike Boxall, supported by the director of ceremonies John Topping.  The working tools were expertly delivered by Will Buchanan, David Jenkinson and Alan Barlow.  As ever, the address to the WM was performed with great passion and dignity by Brian Pearson, whilst the address to the wardens was in the capable hands of Ted Rhodes.
Edward Oldfield in his response spoke of the work ahead during 2022 and how he and the team are looking forward to delivering high quality ceremonies for the many candidates for initiation.  He thanked all his officers including guest organist Phil Bolton and guest tyler Ken Turner, as well as the visiting singer of the master's song, Peter Baldwin. He rounded off his response by presenting a beautiful bouquet of flowers for Mike to take home to his wife.
Lodge secretary, Brian Horrocks, presented Edward Oldfield with some mementos of the evening which included a copy of the summons, signed by all in attendance, along with a table plan of those attending the festive board and a framed certificate featuring the Ancient Charges and Regulations.
During the proceedings Ted Rhodes presented a Lodge of Triumph Past Masters Jewel to Mike Boxall.  This is a very special example of the jewel being made of solid gold and having been presented to numerous past masters, including Ted himself.
A splendid traditional raffle, accompanied by a whisky Westhoughton, raised the charity coffers to in excess of £500, a magnificent amount. The whisky prize was a treasured single malt in excess of 45 years old, won by lodge treasurer Alan Guest, well done Alan.