On the 34th anniversary of the formation of the West Lancashire Masonic Clay Pigeon Shooting Society, the chairman and members of the society presented the Provincial Grand Master Tony Harrison, who is the President of the MCF 2021 Festival, with one of the largest single donations to the festival.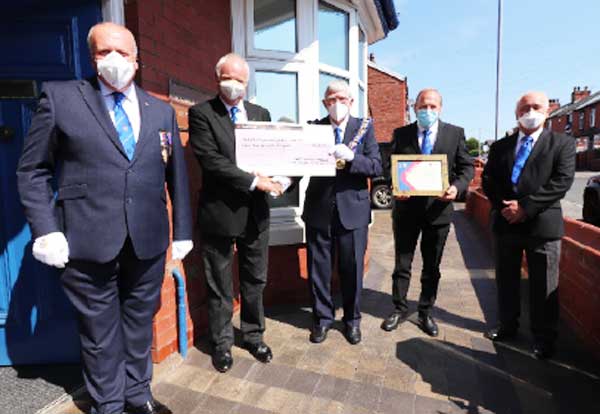 The cheque for £10,000 was a combination of the hard work of the society members and patronage from lodges and chapters throughout the Province, for which the society is always thankful.
Ian Heyes, the chairman of the WLMCPSS said: "We were hoping that we would have been able to donate much more but unfortunately, we had to cancel the 16th National Championships, because of COVID-19 social distancing restrictions."
He went on to say that this cheque, together with the £750 to two non-Masonic charities, distributed at our AGM, brings our total donations over the 34 years to over £134,000.
The presentation took place at the Provincial Office in Leyland. On receiving the cheque Tony said: "I am absolutely delighted to receive such a generous donation to the MCF 2021 Festival and it is most appropriate that today marks the 34th anniversary since its formation. My sincere thanks to those members of the society, both past and present, and all lodges and chapters for their continued support."