Provincial Grand Master Tony Harrison performed his last Craft ceremony before retirement at Southport Masonic Hall where he installed Assistant Provincial Grand Master Frank Umbers into the chair of King Solomon in the Lodge of Unity No 613.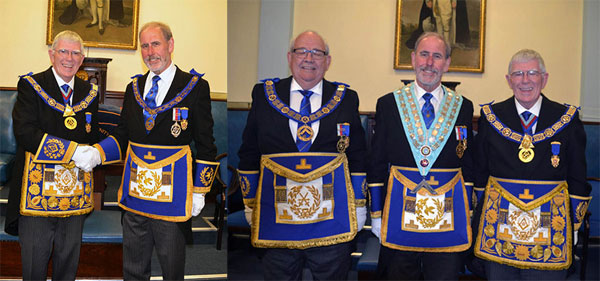 Some time ago, due to lack of members, the lodge had been on the verge of handing in its warrant but the members decided to change tack. They would no longer be a working lodge but be a lodge for working officers and past working officers of the Province and meet only twice a year. The idea was bounced around a few of the working officers and they decided to go ahead with the project.
The Lodge of Unity dates back over 200 years with its warrant dated 1 March 1853 and is the oldest lodge in the Southport Group of lodges.
At the commencement of the meeting, the lodge was opened by David Sear, a late replacement for the WM, and over 100 Masons attended. When the ordinary business of the lodge had been concluded, the great and the good processed in. There were 18 grand officers; five Assistant Provincial Grand Masters, the Deputy Provincial Grand Master and the Provincial Grand Master himself.
David offered Tony the gavel which he graciously accepted and retained. He invited Assistant Provincial Grand Master Andrew Whittle to be senior warden and grand officer Peter Greathead to be junior warden.
The officers for the ceremony were all Assistant Provincial Grand Masters and when the lodge resumed at the end of the installation process, Frank invested his officers for the ensuing year. Tony gave the address to the WM and Philip Gunning the address to the brethren.
Frank will become the latest to wear the master's collar and take pride in ensuring that the lodge's name, history and traditions live on, albeit in a different guise.
Tony's leadership over the past eight years has been thoroughly enjoyed by all and to see him perform for the last time as Provincial Grand Master was a pleasure and an honour. All wish him well in his retirement and look forward to continuing to seeing him at various lodge and chapter meetings.