A West Lancashire Mason who is the Region 2 Publicity Officer ,Tom Fredrickson (aka scoop), has been a volunteer with the Coroners' Courts Support Service (CCSS) for five years. The CCSS is an independent voluntary organisation whose trained volunteers offer emotional support and practical help to bereaved families, witnesses and others attending an inquest at a Coroner's Court. Tom has also been on the CCSS helpline service working from home since its inception some four years ago.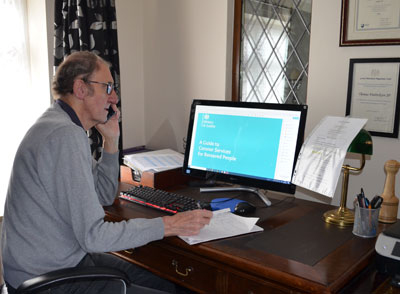 Bereavement is a universal experience, yet it will be unique to each one of us and it is natural to feel intense grief after someone dies. Usually people are resilient and manage to cope with difficult experiences but, when someone close dies, we can't imagine living without that person in our lives and the loss can be a physical pain.
This physical pain is doubled when your loved one dies and you cannot be with them to hold their hand or see them or say farewell, as is the case when someone dies with COVID-19. The bereaved family are left helpless not knowing how or what to do or who to turn to.
The CCSS recognised this situation at the beginning of April and adapted its mission to provide a helpline service to give information and support to the bereaved families of COVID-19 related deaths. The helpline has been an important addition to the service and non-more so than at the present time when we are going through the coronavirus pandemic. The CCSS is the first point of contact for families and next of kin whose loved ones have died and have been dealt with by PMART (Pandemic Multi-Agency Response Team). PMART are set up to attend suspected COVID-19 related deaths in the community and to relieve pressure on hospitals that are dealing with coronavirus emergencies.
The role of the CCSS is a link between PMART, the bereaved, the funeral director, medical staff, police, coroner's office and registrars to collate information and pass this on to the caller. If the volunteer recognises that there is further support needed, they can signpost to other organisations as well as demonstrate empathy and be a listening ear. During the month of April, the CCSS helpline has taken over 1,500 calls and each call has generated a further two calls which means that on average we have received and made nearly 5,000 calls. The service is open from 08:00 to 20:00 seven days a week.
Tom gets great satisfaction and says that it is very rewarding to complete a shift feeling that he has helped in some way to lighten the load and ease the pain. There are many people who are responding to address the pandemic and Tom feels that he is doing his little bit in society.
For more information on The Coroners' Courts Support Service please visit their website at;-
www.coronerscourtssupportservice.org.uk
email to info@ccsupport.org.uk
or call 0300 111 2140