Garston Masonic Hall was the venue for the convocation to install the three principals of Chapter of Harmony No 220. But before the meeting opened, there was a directive from United Grand Lodge of England and Supreme Grand Chapter recommending that Freemasons wear face coverings at Masonic meetings unless exempt.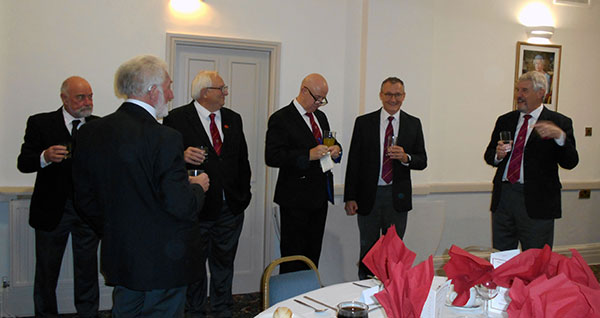 Chapter of Harmony was opened in due form by the three principals and any domestic matters were carried out. The director of ceremonies Gary Mason retired from the chapter and then Provincial Deputy Grand Director of Ceremonies Ian Halsall announced that the Deputy Grand Superintendent Paul Renton demanded admission. First principal Robert Jones replied: "We will be honoured to receive him."
The chapter welcomed the principal guest Paul Renton, accompanied by Assistant to the Provincial Grand Principals Ian Sanderson, Chairman of Woolton and Garston Group John Murphy and other distinguished guests. Paul was introduced and welcomed by the three principals and the installation commenced.
Bernard Bailey who is a past third principal was presented to the third principal of the chapter and was asked to ratify and confirm his solemn obligation from a previous occasion which he confirmed. That part of the ceremony was completed with Bernard being installed as third principal of the chapter.

Alan McCluskey, who is a past second principal, after ratifying and confirming his solemn obligation from a previous occasion, was also installed as second principal. Gary Mason proclaimed Robert Jones as first principal of the chapter for the ensuing year. Eirwyn Jones completed the installation with individual robe addresses to the three principals. Robert Jones presented two cheques to Paul Renton; £110 to the West Lancashire Freemasons' Charity and £110 towards Garston Masonic Hall.
At the festive board Paul congratulated the three principals and also Gary and the other companions for the ceremony. During the festivities in response to the toast, Paul gave a short speech in which he informed the chapter that five focus groups had been formed to find ways of recruiting new members to the Royal Arch including a questionnaire and what people liked or disliked. He also mentioned that he was involved in rugby and that they had to find ways of recruiting new referees from ex-players and, similarly the chapter needs to be finding new ways of attracting additional members from lodges based at Garston.