The friends and colleagues of Thomas (Tom) Jackson gathered at Chorley Masonic Hall for a meeting of St George's Lodge of Chorley No 7161 to celebrate Tom's 50 years in the Craft.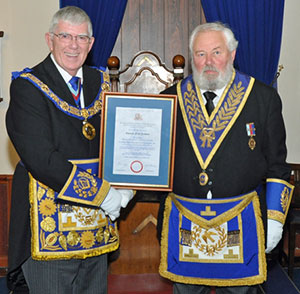 As expected, the turnout was high with 105 lodge members and guests. The lodge was opened by WM Paul Greenway who welcomed Tony Harrison the Provincial Grand Master into the lodge. On this occasion Tony retained the gavel of the lodge to lead the celebrations.
Tony said that everyone was there to celebrate Tom Jackson's 50 years in Freemasonry. Tom and Tony found comfortable chairs on the floor of the lodge and a friendly and informative chat began.
We learned that Tom was born in Kirkby Stephen, Westmorland on 6 August 1944. His father was a farmer originally from Hawes in Yorkshire and his mother was a confectioner originally from Darlington, County Durham. Tom went to the Kirby Stephen Grammar School which was founded in 1566. He then went to Bede College, Durham to study Religious Studies. Following which Tom went to teach in a new C of E secondary school in Chorley. He extended his education with a B Ed degree from Lancaster University.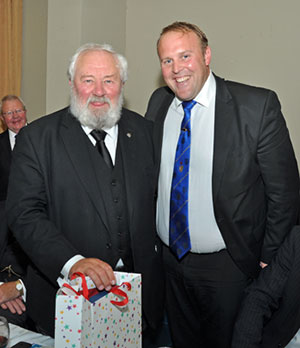 With his enjoyment of the outdoors, Tom has tackled a number of 'Munro's' (mountains exceeding 3,000 feet in height) in Scotland. He was a founder member of the mountain rescue team covering the eastern fells. He enjoys gardening especially eating the fruits of his labours. But, Toms lifelong passion has been antiques, especially clocks and Georgian wine glasses.
Tom first found Freemasonry in St George's Lodge of Chorley 50 years ago, being installed as master in 1982. Since then he has experienced an extraordinary Masonic career. Finding his way into the Royal Arch, Mark Masons and many more Masonic Orders and attaining high rank in them.
First promotion to Provincial grand rank for Tom was as Provincial Grand Sword Bearer. Tom was the Chorley Group Secretary for four years and group vice chairman for five years. Tom passed through the ranks of the Grand Lodge and Supreme Grand Chapter to attain the high ranks of Past Senior Grand Deacon and Past Assistant Grand Sojourner, respectively.
The other Masonic Orders that Tom is involved in, makes for a spectacular list but perhaps he is best known outside Craft Masonry as the Grand Master of the Order of Allied Masonic Degrees. Indeed, in this Masonic Order, Tom has a 'Council' (the equivalent of a Craft lodge) named after him! It is a testimony to the esteem in which Tom is held, by the attendance of so many leaders of other Masonic Orders at his celebration.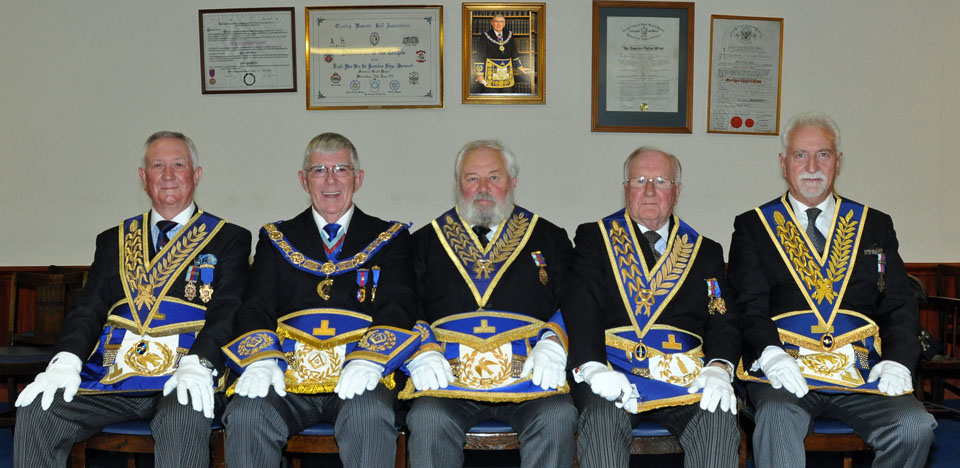 In summarising Tom's achievements and service, Tony Harrison said: "Tom is a fine example to the brethren of this lodge and indeed to us all." He continued: "Now having served as a Freemason for a period of 50 years may I offer you my heartiest congratulations on this marvellous achievement and great milestone in your life." He concluded his oration by saying: "As the head of this great Province of West Lancashire I have issued a certificate to commemorate this special day."
Peter Lockett, Chairman of the Chorley Group, then read the certificate. of appreciation. After prolonged approbation the brethren retired to the festive board in a happy and celebratory mood where with good food, good wine and the company of good friends the evening progressed with much reminiscing.