A wonderful time was enjoyed by all at the Warrington Group Ball in February 2022. Around 70 Masons and guests gathered for the first Warrington Group Ball since 2020.
The event was made all the more special as it was the first opportunity for the Warrington Group to formally thank Kevin and Sue Poynton for Kevin's five years as Assistant Provincial Grand Master. With uncertainty surrounding COVID restrictions at the time of organisation, the decision was made to hold a dinner as opposed to a dinner dance on this occasion.
Despite the faultless organisation skills of Caroline Crook and her husband Rob, the night did not go without a hitch, as our guests of honour, Kevin and his wife Sue, along with the evening's host, group chairman Andrew Barton were all unable to attend due to contracting COVID. Fortunately, vice chairman John Tyrer along with his wife Margaret were there to welcome guests, assisted by master of ceremonies Charles Carr, who took charge of the evening proceedings.
In Andrew's absence, his wife Kathy attended the evening, accompanied by their daughter Hayley. The Warrington Group were also pleased to welcome Andy Whittle and his wife Amanda, and Colin Rowling and his wife Pat.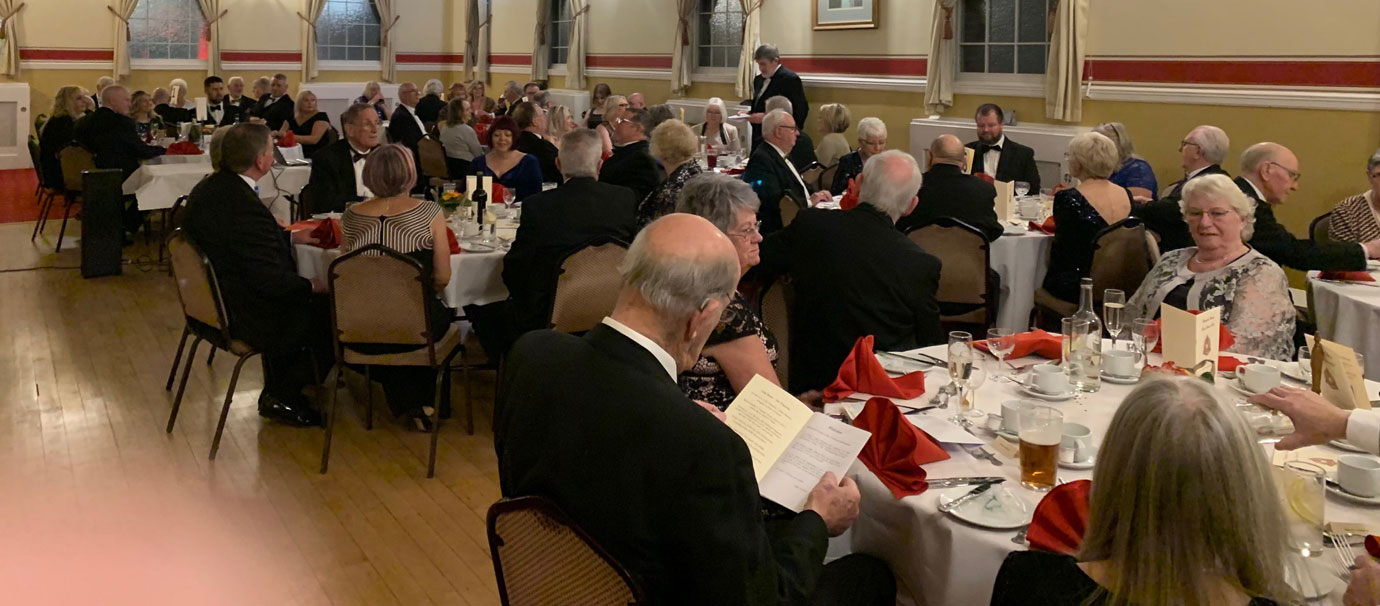 Guests battled the typical dreadful weather to get to the pleasant setting of Warrington Masonic Hall where they enjoyed drinks and seeing faces, old and new. It was a lovely atmosphere and for some, a fairly rare opportunity to socialise and mingle. The five-course meal was delicious and Joanne and rest of the Masonic hall staff were attentive and impeccable as always.

After the meal, thanks to the technological skills and efforts of Rob Crook, guests were able to enjoy a very entertaining Zoom call with Kevin and Sue from their home. Despite having COVID, Kevin and Sue were in great spirits. Kevin's humour is infectious and the whole room was in jovial spirits.  On the call Kevin and Sue were able to show everybody the original painting which they had chosen using a gift contribution from the Warrington Group as thanks for his 5 years in office. The painting now takes pride of place in their home.
John Tyrer proposed the toast to Kevin's and Sue's health and then handed over to John McIntyre who welcomed the 'new' Assistant Provincial Grand Master Andy Whittle and his wife Amanda. Everyone who attended agreed that it had been a thoroughly enjoyable evening.
Story by Hayley Barton.