We are little over 16 months into the tenure of Pamela and John Nicholls as stewards of St Annes Palace and it is fair to say that they have transformed the building into a vibrant and successful venue.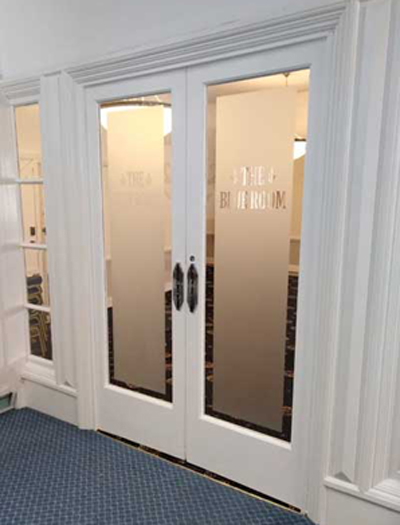 In that time, it has staged dozens of Masonic and non-Masonic events, ranging from Saturday morning dancing examinations to extensive themed nights, hosting over 120 people in attendance.  Not to mention the many lodge and chapter meetings and the banquets which follow.
The considerable challenges we have all experienced this year were faced head on by Pamela and John, who have enlisted a variety of volunteers, ranging from retired handymen, skilled photographers and specialist tradesmen.
All of these volunteers have worked tirelessly to prepare the Palace to be compliant with current COVID-19 regulations and guidance. They have also worked hard to improve areas such as the main entrance to the building, the main doors to the famous 'Blue Room' which has hosted many a social occasion at the Palace, the bar area in terms of decorations and a large scale Masonic-themed mirror.
The Palace has long been viewed as a jewel in the Masonic crown; however, it is safe to say that even in these very challenging and uncertain times, the stewardship of the Palace is not only in safe hands, but with Pamela and John we look brightly to the future.
John, who is the director of ceremonies of Ansdell Lodge No 3607, a member of St Annes Chapter No 2457, also acts as tyler for several other lodges and chapters in the building. He has also been a member of the Fylde Group Lodge of Instruction No 65, having the distinction of being the very last person in the 20th century to receive a silver matchbox from the Emulation Lodge of Improvement in London.
The year was 1999 and John was the 366th successful recipient of this honour. He had been nominated to attend the annual festival of the Emulation Lodge of Improvement by the noted Assistant Provincial Grand Master Peter Walker, who was a celebrated ritualist in his time and the senior preceptor of the Fylde Group Lodge of Instruction.
John's place on the Hall of Fame in London was witnessed when many West Lancashire Masons attended the 2019 Festival, at which our own Provincial Grand Master Tony Harrison, was the Festival President.
South Fylde Group Secretary Ben Gorry, was pleased to provide the detail for this article and looks forward to being involved with supporting Pamela and John in their future endeavours at St Annes Palace.