Friends and members of not only his mother lodge, Wayfarers Lodge No 7544, but a lodge in which he was a founder, Broadwater Lodge No 9027, gathered at Cleveleys Masonic Hall to celebrate Robert (Bob) Abbott-Hull's 50 years in Freemasonry.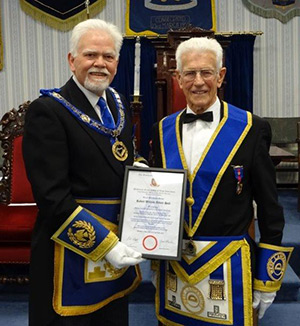 The assembled brethren we pleased to have Assistant Provincial Grand Master David Randerson preside over this golden celebration. On this occasion David was accompanied by Harry Cox, North Fylde Group Chairman Peter Greathead, Keith Jackson and was supported by newly appointed acting Provincial grand officers, Brian Woodburn, Allan Shields, Stuart Alcock-Williams, Gavin Egan, David Parker, Terry Murtagh and Gary Smith.
On this occasion the lodge was opened by Bob Abbott-Hull, who for the start of the evening was occupying the master's chair. Bob made short work of the administrative business of the lodge after which the appropriate knocks were heard at the door to allow Provincial Deputy Grand Director of Ceremonies Gary Smith enter and formally announce the presence of David Randerson. After being offered the gavel of the lodge, David occupied the chair of the lodge and asked for Bob to be placed in a comfortable seat before him.
At the start of the presentation David acknowledged that usually, in researching for any event such as this he would normally send a basic information form to the secretary to be completed by the celebrant to give him some initial pointers that he would follow up with a visit to their home to have a more detailed chat with them. In this instance, Bob gave him so much more that it was, in his own words, 'The life and times of Robert William Abbott-Hull'. David also acknowledged Bob's daughter Beverly who had put so much work into the presentation.
David said that Bob was born in Thornton in 1927 in one of two cottages situated in the mill yard, a few yards from Thornton Marsh Mill. It was a two up two down dwelling, with stone floors and brightly coloured peg rugs scattered around. It had a coal fire range to do the cooking and boiling of the kettle. They had gas mantles for lighting, an outside privy and one indoor cold-water tap. There was also a wheelwright's, a joiner's shop and next door to that was the smithy, where his father worked as the blacksmith and farrier. Bob had two elder sisters, Vera and Beatrice. David recounted many of Bob's memories from a tragedy that happened at Marsh Mill where two ladies lost their lives falling from a platform, his sister's tonsil operation, to the death of his father when he was eight years old.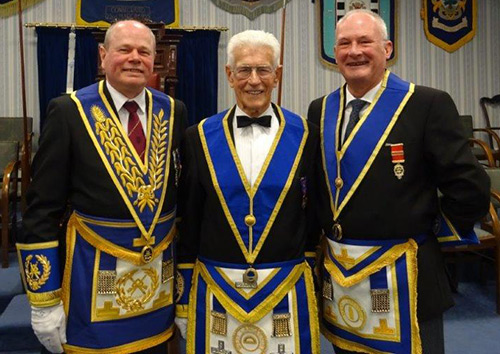 In 1932, at the age of five, Bob started school in Thornton and he sat next to a lad called Bill Smith. He had a younger brother called Ian. Bill later became headmaster of a junior school at Blackpool. Ian Smith, also did exceedingly well in life. Years later, Bob was a founder member in 1982 of Broadwater Lodge, alongside Ian, also his good friend Bill Tait (whose son Damon Tait was at the evenings celebration).
After finishing school at 14, Bob went to work for Thomas Eastham, a local cabinet maker. Bob's wages were 10 shillings a week, for a 44-hour week, including Saturday mornings. Bob went by the name of Bill, obviously short for William, but so did his foreman. Thomas Eastham used to shout: "Bill", so he would go running and stand at the side of him, he would look at Bob and give him a smile and say: "I mean Bill the foreman." So, after a few times of Bob running to be of assistance, Thomas Eastham said: "Have you got another name?" Bob said that his full name was Robert William, so he said: "We will call you Bob then, short for Robert." That stuck for 45 years of working there.
Bob joined the army in 1946, a year that saw William Joyce, the German propaganda traitor who went under the name of Lord Haw-Haw, hung. On the wireless he used to say, 'Germany calling, Germany calling'. In the army, after six-week basic training, Bob became a sapper in the Royal Engineers, building Bailey bridges, laying mines, which saw him posted to Hadera and Palestine, and Bob was demobbed in 1948 and went back to work at Eastham's. Thomas Eastham was still there but his son Rowland, who had been in the RAF during the war, was now in charge. They started to make utility kitchens as timber was still very hard to get hold of.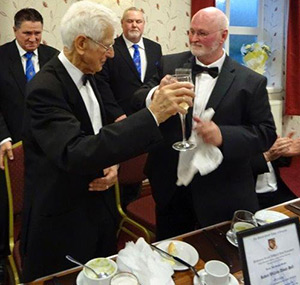 Following Bob's was introduction to a girl called Jean, they married in 1949 in Thornton and both of Bob's sisters were bridesmaids. In 1951. Bob and Jean were blessed with their first child, a little girl and they called her Jean. She was followed by their first son William Barrie born in 1953. Their second son David was born in 1954 and in 1960, they were blessed with another daughter, Beverley.
In 1963 Bob got promotion at work, he was made up to deputy foreman. Bob was now 36 years old with 22 years' service and the perks of getting the promotion meant, getting paid if you were off sick, being in BUPA which included the family, being paid monthly through the bank and a good pension scheme. This meant that they were able to get a mortgage and buy their first home in Cleveleys.
David moved on now to March 1969 when Bob was initiated into Wayfarers Lodge by Harold Roberts. Norman Turner was his proposer and Peter Turner, his seconder. At this point David invited the lodge secretary to read a précis of that meeting.
Passing through the various lodge offices, Bob was eventually installed into the chair of Wayfarers Lodge on 6 February 1982, by Jeff Pinder. Bob took the office of assistant secretary from 1985 to 1988. Later he became chaplain from 1989 to 2018, 29 happy years. Provincial honours came Bob's way in 1991 when he was awarded the rank of Past Provincial Assistant Grand Director of Ceremonies, Bob was promoted to Past Provincial Senior Grand Deacon in 1999 and in 2005 Bob was further promoted to Past Provincial Grand Superintendent of Works. David added that in Broadwater Lodge, Bob was also a hard-working member acting as assistant director of ceremonies and chaplain for many years as well.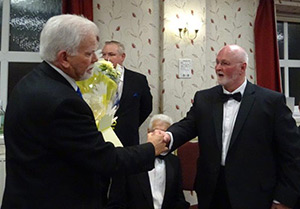 In 2010, Jean and Bob celebrated 60 years of marriage, they had a big celebration with an anniversary card from The Queen and they visited Thornton Parish Church where they were married and once again walked down the aisle to the wedding march. Bouquets of flowers from friends, family and Masonic lodges, a lovely meal out with the family and a write up in the Evening Gazette.
David completed the presentation by saying: "Not only the last 50 years as a Mason but the last 92 years of a remarkable life, all delivered in an unassuming way which typifies the gentleman Bob is. Bob you have been blessed in your own words with a wonderful life supported by your wife and family and you have enjoyed 50 of those years as a Freemason in the true manner of our principals and tenants."
Continuing, David said that the Provincial Grand Master Tony Harrison was aware of Bob's celebration and that he has spoken to him earlier that day. Tony had sent his greetings in the form of a certificate which David invited the group chairman Peter Greathead to read out.
David then returned the gavel to the WM John England who completed the evenings work. During the first rising Peter Greathead brought the greetings of the grand officers and presented Bob with a badge commemorating 50 years in Masonry and said that he had a 60-year badge which he hoped to present Bob with in the future.
The brethren retired to the festive board in a happy and celebratory mood with much reminiscing on the life and times of Bob.