Over three weeks the St Helens and Prescot Group collected food, toys, toiletries and other items needed by our local food banks.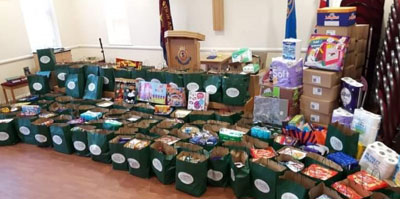 On Friday 11 December, 140 bags were delivered to the St Helens Foodbank and on Saturday 12 December another 140 bags were delivered to the Salvation Army Foodbank in Prescot, approximately 2,800 items in all.
The items were gratefully received at both food banks and they thanked all of the brethren of the group who donated to help them meet the extraordinary demand being placed on food banks at this time.
The brethren who volunteered to make up parcels and to deliver them had a wonderful time and really felt that they were making a positive contribution to the community during these uncertain times. Group chairman Graham Williams and vice chairman Gratten Williams were more than pleased that the group were able to come together in such a way to support two local foodbanks and were delighted to be part of the Provincial initiative to support local foodbanks in the Province.