Sure and Stedfast Chapter of Temperance and Felicity No 9326 held its annual installation ceremony at Liverpool Masonic Hall. It was, as to be expected, a warm and heartfelt meeting and thoroughly enjoyed by all who attended.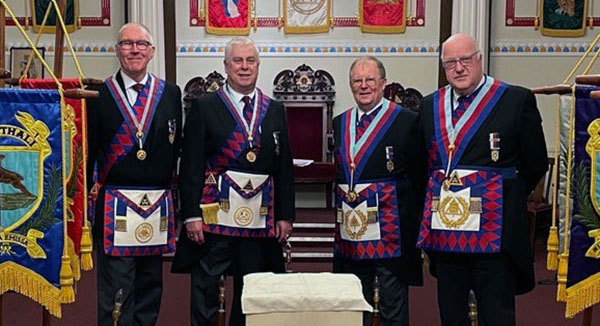 The representative of the Grand Superintendent was Assistant to the Provincial Grand Principals Colin Rowling who was accompanied by fellow grand officer Stephen Walls. In attendance also were the Liverpool Group Chairman Dave Johnson and group scribe Neil Francis.
The ceremony of installation was performed effortlessly and ran like clockwork following the guidelines laid down for posterity by the much-lamented chapter director of ceremonies James (Jim) Kontzle, now no doubt bringing order and demonstrating to those in the Grand Chapter above, how ceremonial should be performed.
Graham Edwards installed his successor and father Joe Edwards as first principal; John Bruffell was installed as second principal and then installed his son Christopher as third principal. Apart from Graham Edwards going to first sojourner, all other officers remained in place; these being Dave Crowley as scribe Ezra, Ray Parkins as Nehemiah, Syd Needham as treasurer, Mike Worthington and Mark Rawsthorn as assistant sojourners and Geoff Cuthill as janitor.
The chapter donated three disbursement cheques in favour of the West Lancashire Freemasons' Charity; Tithebarn and Liverpool Masonic Hall; each to the value of £50.

Following the installation, the festive board was again very similar to the meeting beforehand, one of pure enjoyment with all being relaxed in company they knew so well. The meal reflected the chapter, consisting of good honest wholesome fayre, starting with a pea and ham soup, fish, chips and peas served with bread and butter and a mild curry sauce, or tartare if preferred. The dessert was sponge pudding with hot custard.
During this period Dave Crowley produced a number of photographs from the hall library and archive which he circulated. These were of members of the sadly now defunct Crusaders Lodge No 6589 and pictured many well remembered brethren such as Haldane Eccles, Robin Finnegan, Jack Taylor, Jim Kontzle. Also, on them appeared Syd Needham and Ray Parkins, both members of Sure and Stedfast Chapter of Temperance and Felicity.
As stated, the evening was very amicable and Colin Rowling explained what was happening within Royal Arch and the pleasing response already to the survey that had been sent to all companions. It was heartening to see so many taking part positively. Sadly, the evening drew to a close and the janitor gave the final toast of the evening.