Morecambe Chapter No 1561 held its March 2023 installation convocation attended by Deputy Grand Superintendent Chris Butterfield. He was accompanied by Assistant to the Provincial Grand Principals Barrie Crossley and grand officer Dr Keith Lowson, with Lancaster Group Chairman Neil McGill.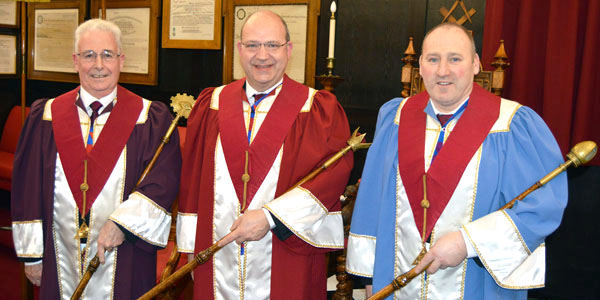 Acting Provincial grand officers in attendance were Provincial Grand Almoner Paul Broadley, Past Provincial Grand Scribe Nemiah David Tattersall and Provincial Grand Steward Ken Needham.
The ceremony was conducted by director of ceremonies Barry Robinson who presented Andy McClements as third principal and Malcolm Brown as second principal. First principal Stuart Bateson remained in post.
The robe addresses were given by Brian Dewhurst to the first principal, Bryan Cambidge to the second principal and Matt Catlow to the third principal. A cheque for £300 for the West Lancashire Freemasons' Charity was presented to Chris Butterfield by first principal Stuart Bateson for which Chris thanked the companions of the chapter for their generosity.
At the completion of the installation, the installation greetings Chris Butterfield was delighted to present the chapter with its official Centenary Warrant. The convocation was then closed and 39 companions dined at the festive board at which a raffle raised £240.
This is the third year that Stuart Bateson has been in post as first principal. He is married to Pauline, who has three sons and Stuart has two nephews.  Stuart was educated at St Peters Primary School and Ripley St Thomas Secondary School in Lancaster. He holds a HND in Industrial Measurement and Control, awarded by Bolton University.
Stuart has been a control and instrumentation engineer for EDF at Heysham 2 Power station for 30 years. He has played the cornet for Morecambe Band since 1977, qualifying for the UK national finals for the last two years. Stuart has also performed at the Royal Albert Hall with Foden's Band and at the Bridgewater Hall Manchester, the Symphony Hall, Birmingham in addition to a US Open contest in Chicago.
Stuart was initiated in 1995 at Morecambe Lodge No 1561 and was WM in 2021-2022. During his year in office, he attended every installation in the Lancaster Group at Morecambe, Carnforth, Silverdale and Garstang plus one at Barrow and one at Penrith. Stuart is also a member of a number of other Masonic orders.