The installation of Stuart De Core into the WM's chair of Broadwater Lodge No 9027 starts the North Fylde Group installations with a bang. The brethren were happy to welcome Stuart Thornber as the principal guest on this auspicious occasion. Stuart was accompanied by Harry Cox, John Cross the North Fylde Group Assistant Chairman, Jim Gregson and Mike Brown.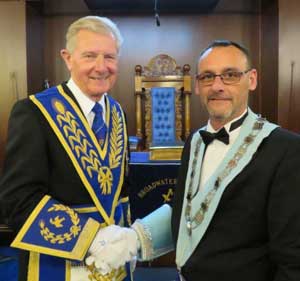 Unfortunately due to ill health there were a few members of the lodge missing but this did not hold the lodge back from laying on an exceptional installation. The evening started with Paul Smedley occupying the master's chair for the installation, Paul quickly opened the lodge and deftly dispatched the administrative business of the lodge.
Paul formally welcomed Stuart Thornber to the lodge. Once salutations were completed, the most important business of the lodge got underway. Paul asked David Martland to occupy the senior warden's chair, Peter Bawden to occupy the junior warden's chair and David Wright to assume the role of inner guard.
The presentation of the master elect was placed in the very capable hands of David Wright and during the installation, the third degree working tools were presented by Andy Robins, the second by Walter Daubney leaving David Wright to finish with the first degree working tools.
Walter Daubney, the lodge's director of ceremonies, barely had time to time to sit down between his many jobs, delivered the address to the WM, and once invested, the address to the deacons with perfection. This left the address to the brethren of the lodge which was very capably done being in the experienced hands of Stuart Thornber.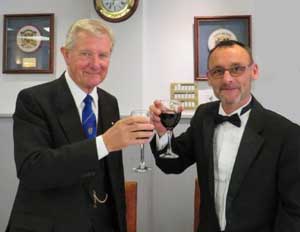 Once Paul Smedley delivered those immortal words: "That completes the ceremony of your installation" to the new master, Stuart rose again to bring the greetings of the Provincial Grand Master Tony Harrison and in turn he thanked Paul, Walter and all those who had worked so hard to produce such a magnificent ceremony.
Stuart De Core then had the pleasure to present Stuart Thornber with cheques for £750 for the Masonic Charitable Foundation 2021 Festival, £250 to the Vicarage Park Community Centre, Poulton-le-Fylde, £125 to the North West Air Ambulance Service and £125 to Trinity Hospice. Stuart thanked the lodge for their generous donations.
At the festive board in the response to the toast to the health of the grand officers, Stuart Thornber took the time to add his own congratulations to the new master and the brethren of the lodge again, pouring praise on Paul Smedley and Walter Daubney, together with all those who had taken part in the ceremony. Stuart also praised the lodge for their donation to the 2021 Festival and asked all those who had not taken up patronage to consider doing so before the end of the festival.