Stuart Bateson was installed in the chair of King Solomon in December 2021 by his 87-year-old father and WM of Morecambe Lodge No 1561 Syd Bateson.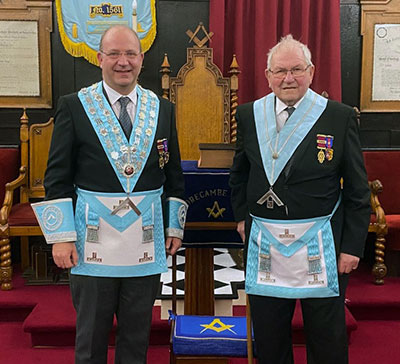 The representative of Provincial Grand Master Tony Harrison was Assistant Provincial Grand Master Peter Schofield who was accompanied by grand officer Peter Mason, Provincial Assistant Grand Director of Ceremonies Ken Needham, Provincial Senior Grand Deacon Andrew Keith, Provincial Grand Standard Bearer Jim Scott, Provincial Assistant Grand Pursuivant Joe Crabtree and Provincial Grand Steward Gordon Evans, together with Lancaster Group Chairman Neil McGill and group secretary Chris Larder.
The WM invited Malcolm Cambidge to act as installing senior warden; Malcolm Brown to act as installing junior warden and Stewart Aimson to act as installing inner guard. At this point, immediate past master Ian McCluskie took over the next part of the installation ceremony and Stuart Bateson was presented for installation by Malcolm Cambidge.
Stuart has been a Freemason for 26 years, joining Morecambe Lodge in 1995. He was born in September 1967 and attended St Peter's School in Heysham and then later went to Ripley St Thomas School in Lancaster. He was awarded a Higher National Certificate in industrial measurements and control systems from the University of Bolton. Stuart Joined the CEGB at Heysham 2 Power Station in 1984, just at the start of generation and is currently a lead engineer responsible for the reactor protection equipment and the automatic shutdown equipment.
Music has been a large part of Stuart's life. He learned to play the cornet at the age of eight and joined Morecambe Band in 1977. Stuart has played in eight national brass band finals; three in London, including one at the Royal Albert Hall in 2003. From 2003 to 2013 he travelled all over the northwest playing for champion section bands, easily travelling over 400 miles a week to and from Sandbach and Manchester, performing in concerts at the Bridgewater Hall, Manchester and Symphony Hall, Birmingham, including two tours to Chicago.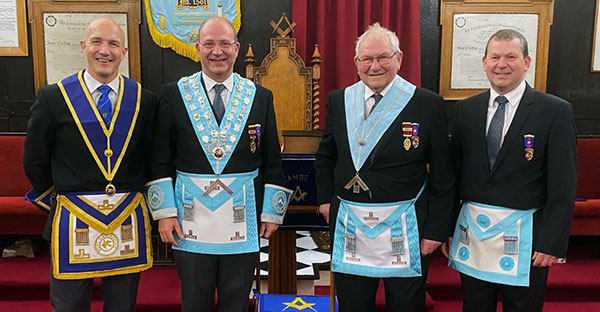 Stuart returned to Morecambe Band in 2013, where he was asked to become secretary and later chairman of the band. While helping a band out in Malta in 2006, he met Pauline and after a long romance they were married in 2018. Stuart and Pauline don't have any family together, although Pauline has three sons from a previous marriage and they have a 12 month old cocker spaniel. Family is very important to Stuart and he thinks the world of his two nephews Callum and Jack. Stuart has a very full Masonic calendar; he is currently first principal in Morecambe Chapter No 1561 and is very busy in four other Masonic Orders.
Morecambe Freemasonry runs in the Bateson family with three members all holding office; WM Stuart Bateson, immediate past master Syd Bateson and assistant secretary Alan Bateson.
During the installation ceremony, the third degree working tools were presented by Matthew Armstrong, those of the second degree by Stephen Cooper and Adrian Kerslake completed the trio with those of the first degree. The address to the WM was given by Stewart Aimson and the addresses to the wardens by Bryan Cambidge and, as the final address, that to the brethren of the lodge by the Peter Schofield.
On completion of the installation ceremony, the WM presented to Peter Schofield a list of donations made during the past year on behalf of the immediate past master. A total of £2,000 was given; comprising £1,500 to Cancer Care; £500 to Mind and £500 to the British Lung Foundation.
At the festive banquet, the toast to the WM was proposed by Malcolm Cambidge, who also presented Syd Bateson with his past master's jewel, having been his proposer into Freemasonry. David Tattersall was guest organist and the master's song was sung by Malcolm Brown. The charity plate raised £250, the raffle £325 and the master's swindle £40.