During the current COVID-19 lockdown, a dedicated group of brethren from the University Lodge of Liverpool (ULOL) No 4274 have been going into Liverpool City centre to provide food for the homeless and rough sleepers.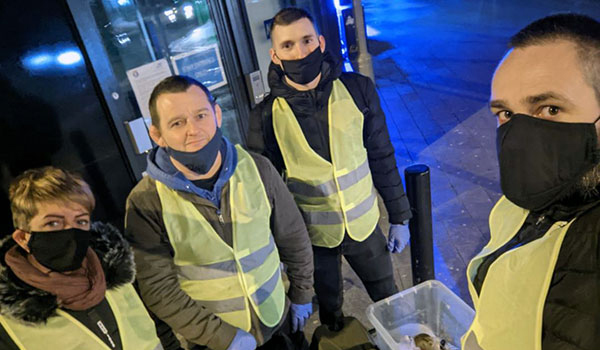 This has been spearheaded by Adam Lindop and his partner Toni Hughes, together with Szilard Pop (chief transporter of all the supplies) and along with Chris Farley, Isak Cheetham-Wilkinson and Liam Hayward.
The ULOL team have been meeting up in the city centre over the past few months on most Sunday afternoons working from four o'clock in the afternoon until eight or nine in the evening to distribute sandwiches, beverages and quality hot food such as 'scouse' and chicken curry prepared by Toni to approximately 32 regular recipients
Funding for the team has been received from different lodges and has been used to purchased serving trollies which they load up and then use to carry and deliver the food to the service users. Through their team spirit and dedication, they have built up considerable trust between themselves and the homeless.
Adam commented: "It's both humbling and a privilege as a Freemason, to be able to do things for people who can't do anything for you in return."
But undoubtedly Adam, Toni and the ULOL brethren are indeed getting much back in return from those they serve. When you can give without expecting anything in return, you have genuinely mastered the art of living.

Article by John Stanley, Provincial Universities Scheme Officer.
Photographs by Szilard Pop.