Stephen Heginbotham was installed into the chair of venerable Hesketh Lodge No 950, which is the oldest lodge in the North Fylde Group at 158 years old, for the second time since his last mastership in 2014.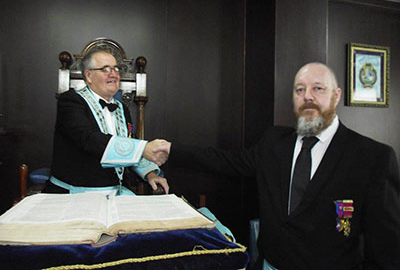 He was installed in style before a full turnout of North Fylde Group officers which included chairman John Cross, vice chairman Tony Farrar, secretary Mike Brown and treasurer/charity steward Jim Gregson, all there to support Ian Ward as the representative of the Provincial Grand Master Tony Harrison.
Immediate past and installing master Peter Dunn excelled himself in producing a memorable installation ceremony of putting his successor Stephen firmly in the WM's chair. Peter skilfully saw to the early   administrative work of the lodge which included a ballot for three re-joining members; Stephen Peters, Tony Hind and Chris Nicholson all of whom were successfully returned to the fold. A proposition by the WM that Assistant Provincial Grand Master Duncan Smith be made an honorary member of Hesketh Lodge was also heard.
After the lodge was opened in the first degree the principal guest Ian Ward accompanied by John Cross was admitted to the lodge room.
As is traditional in Hesketh Lodge the minutes of the lodge from 100 years ago were read giving details of the 1921 installation.
Brian Mayoh, who later in the evening was singled out for praise by the new WM for having served 50 years in Freemasonry which regrettably had gone temporarily unmarked as the anniversary date fell during the COVID pandemic, acted as installing senior warden. Bob Stringer acted as installing junior warden and Ron Fenton acted as installing inner guard, as well as chaplain for the installation ceremony.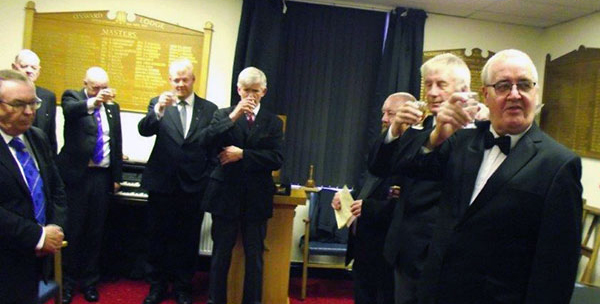 Mike Lamerton presented Stephen Heginbotham as master elect and Peter Dunn moved into action to produce a faultless installation ceremony before placing Stephen into the master's chair. Despite the ceremony being the abridged version as Stephen had previously been master, nevertheless it was an impressive performance by Peter. Stephen too gave an excellent rendition of his obligation.
The brethren returned to the lodge in each degree and saluted their new WM. Salutations to the grand lodge officers included Keith Jackson who acted as organist in the stead of the holidaying lodge organist David Brown. Edwin Fisher representing the Provincial grand officers was also saluted and responded suitably.
Stephen next appointed his officers for the year, which included appointing one of the returning prodigal sons, Chris Nicholson, to senior warden; a post he had held prior to his temporary departure from the lodge. Les Ivison was reappointed as director of ceremonies, a post he has held for five years, and was addressed by group secretary Mike Brown. The address to the wardens, Chris Nicholson and Bob Stringer, was given by Derek Williams the lodge secretary.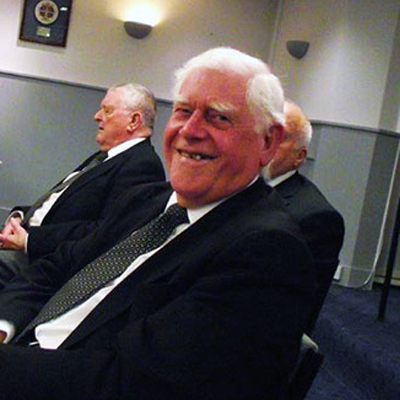 Finally, Ian Ward delivered the ancient address to the brethren of Hesketh Lodge. Thereafter, following Peter Dunn's utterance of the immortal words beloved of installing masters: "That concludes the ceremony of your installation", Ian rose to bring the greetings and congratulations of the Provincial Grand Master Tony Harrison. He wished the new master a happy, healthy and successful year, commenting that it bodes well with such an influx of new members on show. He congratulated both Stephen and Peter on 'a job well done'. He added that the Provincial Grand Master enjoined: "Enjoy your Freemasonry" adding, "otherwise what's the point of being here?"
On behalf of the lodge, Stephen thanked Ian for his attendance and kind words and gave him two cheques each for £100, one destined for Brian House Children's' Hospice and the other for the Almoner's Fund.
As the lodge wound down to its close of business Mike Brown extended invitations to the brethren to join Senatores Lodge of Installed Masters No 8966 and to charity stewards and almoners to Dona Conferentes Lodge No 9392 which he felt brethren would enjoy in their Masonry.
After the lodge was closed in peace and harmony, and following a visit by the grand and Provincial grand officers to Mabel's Room to toast the new master, his installing master and lodge director of ceremonies for their hard work, the brethren retired to an excellent festive board.
In his address to the brethren Ian Ward, in a humorous exchange with director of ceremonies Les Ivison who had mistakenly called him Ian Wade on several occasions said he felt like an imposter speaking as Ian Ward. As Ian Ward he said it had been a pleasure to visit. He also said in his address: "Masonry was there to be enjoyed. So, enjoy it!"
The new master thanked Ian for his attendance at Hesketh Lodge's installation. He also thanked the members of the lodge for their trust in promoting him again to WM. He listed several social items which he planned to put on the calendar including a trip to the races. He said how much he looked forward to a great year ahead.
A raffle overseen by Chris Nicholson raised a total of £120 for Masonic charity before Ron Newton, the guest tyler, closed proceedings with a rousing tyler's toast.