In March 2022, members and visitors of St Paul's Lodge No 5459 of the Widnes Group, met for their regular lodge meeting with the main item on the summons being a double second degree ceremony.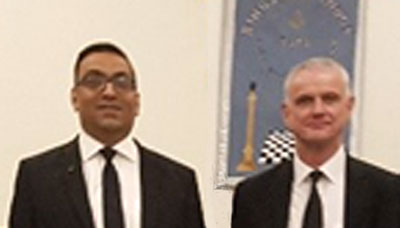 The lodge was opened by Dave Berrington, who acted as the WM for the evening, as the lodge WM Ian Thompson was away on holiday. The first business of the evening was to welcome joining member, Sri Kiran Tangirala, an entered apprentice, formerly of the Lodge of Israel No 1502.  Having been given the lodge by-laws he took his seat in the Lodge.
The next business was to ballot for a joining member, master Mason Andrew Campbell, also formerly of the Lodge of Israel, and for two proposed candidates: Lawrence Thomas and Dean Marsh. The ballot proved favourable for all three.
After this the WM asked Les Williams, lodge secretary, to assist the lodge by occupying the chair of King Solomon to conduct a double ceremony of passing for Sri Tangirala and Paul Morton. This was to be a double ceremony with a slight difference.
Sri remained in the lodge while Paul retired.  Sri was then put through his questions and entrusted before leaving the lodge. Once he had left, Paul was admitted and he completed his questions, he was then entrusted and left the lodge.
Whilst both candidates were preparing themselves the lodge was raised to the second degree.  After the initial report and being tested at the lodge door by the inner guard Tony Hamilton, Sri Tangirala was admitted and passed to the degree of a fellow craft Freemason. As Sri is a Hindu, he took this obligation on the Bhagavad Gita. Once invested with his badge of a fellow craft he retired from the lodge and Paul Morton was again admitted and he too was then passed.

Both candidates restored themselves to their personal comforts and on re-entering the lodge their ceremony continued. The working tools were duly presented by Frank Smith the junior deacon and the second degree Tracing board was explained by Joe Stanners.
Paul and Sri were then presented with a small booklet explaining the ceremony of passing by John Gibbon, Vice Chairman of the Widnes Group and Vice Chairman in waiting of the new Mersey Valley Group which will come into being in May.
St Paul's lodge is now a multi-faith lodge, as alongside it's Christian members, it has Gary Allmark who is Buddhist and now Sri who is a Hindu.
During the ensuing charity collection, it was agreed that the money raised was to be donated to the Ukrainian Appeal. After the lodge was duly closed, the brethren retired to a very pleasant festive board that was enjoyed by all.
It has to be said that this was definitely a team effort which ran smoothly and enjoyable, all involved doing a great job in making the evening go so well for our two candidates.