Vicar Rev Linda Riley-Dawkin aided by three or four volunteers has been actively identifying and supporting those in the community most vulnerable to hardship and poverty.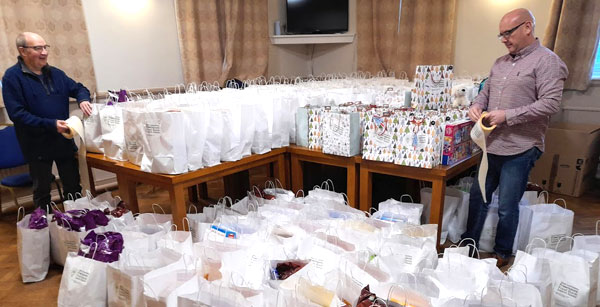 Focusing on the need for family and school support the church has been running various initiatives since the start of the pandemic and after ongoing discussions with the Widnes Group Vice Chairman John Gibbon it was identified how the Widnes Group could best offer support.
This was to come in the form of providing food, toiletries and other essential items donated by Widnes Masons which would then go to support the Church's Community Pantry Appeal. During discussions Rev Linda stated that the church is now busier than ever working tirelessly to support vulnerable families in need of support especially at weekends when traditional food banks are closed.
Armed with funds provided by the Province and donations from the lodges and chapters within the Widnes Group a 'big shop' was conducted at a local supermarket by the group charity steward Bob Williams along with volunteers from within the group. They then packed and segregated over 250+ bags of essential food items and toiletries before embarking on loading and delivering them directly to the Church's Community Pantry Appeal, a feat that certainly improved the fitness of a number of brethren!
Whilst non-perishable goods are ideal for storing at the church as a back-up commodity for easy distribution, its essential for one's wellbeing that fresh fruit and vegetables form part of a staple diet and to this end an additional donation of £800 was made to the Church's Pantry Appeal to allow them to buy fresh food over the Christmas period.
Reverend Linda commented on the support that the church has received: "I can't thank you and your members enough! Such an incredible kind gesture and what with the funds too, so many families are truly going to have a blessed special Christmas."
These donations from Widnes Freemasons were in response to the West Lancashire Provincial Food Bank Support Appeal, targeted to help to ease the burden on those less fortunate than ourselves and go some way to making a difference for those that we will never meet.