Despite all of the national and local restrictions that have curbed the members' enjoyment of their Masonic lives, the summer season of events was launched at St Annes Palace by a joint Sunday lunch hosted by St Annes Chapter No 2457 supported by St Annes Lodge No 2457.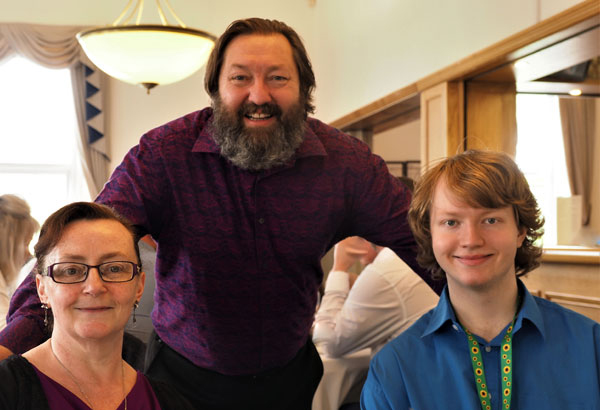 By some strange coincidence, the event was held on the 60th anniversary weekend of the then Provincial Grand Master, L E Rutherford, attending to open the building as a Masonic hall. The building had previously been a cinema and traces of that past are still to be found in the current layout.
What was the tea room and café in those bygone days, has now been tastefully redecorated as the 'Blue Room,' which was filled with members of the chapter and the lodge, along with their guests anticipating a bumper meal.
Lee Munro and his team had provided some mouth-watering choices which included ham-hock terrine, prawn cocktail and cheese souffle; then a choice of roast beef and Yorkshire pudding, or baked salmon, or a vegetarian alternative for mains; followed by a triple of chocolate brownie, banoffee pie and lemon posset, or ice cream, or cheese board for afters.
A warm welcome was delivered by Terry Stevens-Lewing, who is the presiding first principal of St Annes Chapter, who thanked everyone for their support. He particularly thanked hall steward John Nicholls for his hard work in preparing the room for the event and Lee Munro and his team for the excellent catering. He also emphasised that the intention was for everyone to enjoy themselves and to this end there would be no formalities of toasts or taking wine – several cheers were heard at this point!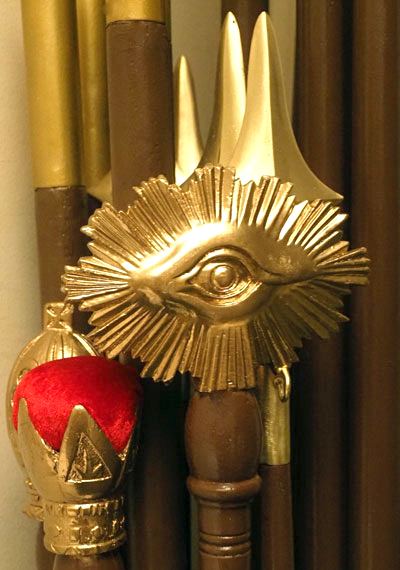 At different intervals in the day's proceedings Terry could be found in and around the Masonic temple showing off his handiwork, having renovated all of the chapter furnishings and equipment. This included golden banner stands with nice clean banners, refurbished principal's sceptres and newly painted arch-stones for use during ceremonies.
One other clever innovation was the creation of a proper parchment for candidates to read from. Terry has obviously been working hard in between his acting jobs and growing a pretty impressive looking beard.
Terry's guests included his wife Tina and their son John-Luke, who is at Huddersfield University studying psychology and criminology. Also in attendance was group charity steward, Dave McKee, having a day off from working hard to keep Freemasonry in the forefront of charitable giving, Dave was enjoying his meal with his wife Paula.
Publicity officer Glenn O'Brien arrived wearing the most outlandish waistcoat that anyone had ever seen. Nobody could quite work out if he was attending to dine or bringing his gardening with him!
A most enjoyable afternoon was experienced by all in attendance, with many lingering long after their meal to catch up with friends old and new. All agreed that they were looking forward to many similar events in the future.
Plans for upcoming events are at an advanced stage and include Sunday lunches on consecutive weekends for Baines Lodge No 7844, Semper Fidelis Lodge No 4428, Quadrant Lodge No 8044 and Ansdell Lodge No 3607. The Palace will also be hosting a banner dedication meeting for Pro Patria Lodge No 9952.
Other non-Masonic events include two Saturday dance nights, one of which will be led by Tracey Mason who also runs dance classes in the building during the summer recess This event has already attracted 92 attendees and is likely to include a meal for those who wish to indulge.
The Saturday night events are planned to become a monthly feature later in the year and John and Pam Nicholls are looking forward to being busy.