Freemasons who meet at Bryn Masonic Hall in Ashton-in-Makerfield enjoyed a great afternoon out when they sponsored an amateur rugby league match at nearby Ince Rose Bridge ARLFC.  Bryn Masonic Hall is situated in what is best described as a 'no man's' land' between Wigan and St Helens and members come from either side of that great divide.

There is a famous rivalry between the rugby league clubs from both towns and is the source of much good-natured banter amongst members who meet at the hall. So, when the season's fixtures called for the famous St Helens club, Pilkington's Recs, to visit Ince Rose Bridge, it provided the perfect opportunity to both support the local community by sponsoring the game and have a really good afternoon out.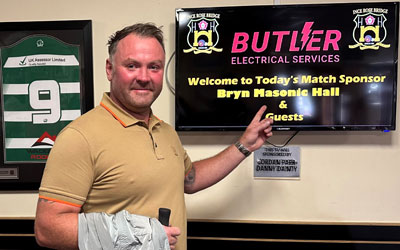 Supporting this event was the idea of members Mike Butler, a long-standing corporate sponsor of Rose Bridge and a member of Hope Lodge No 4003, and Phil Hughes, steward of the Masonic Hall and a member of Borough Lodge No 3996. Financially contributing to the event were over 25 members of the lodges that meet at Bryn Masonic Hall who turned out in force to enjoy the event.
Meeting at lunchtime in a local Wigan hostelry, the rugby fans enjoyed the pub's speciality of scotch eggs and of course, in Wigan, pies, before travelling the short distance to the Ince Rose Bridge ground and clubhouse. A warm welcome awaited and all the attendees were treated to a wonderful competitive game of rugby, played with such enthusiasm, no little skill, and in the spirit and good nature for which the game is renowned at this level. Just for the record, Ince Rose Bridge came out as the victors on this occasion.
Back in the clubhouse after the game, the good nature and mutual respect was there for all to see, as performances were praised, presentations made and players and fans alike socialised in a great atmosphere, full of banter, and of course, the odd liquid refreshment.
Chairman of Ince Rose Bridge ARLFC, Tony Sanby, addressed Mike Butler, and said: "I hope you and your guests from Bryn Masonic Hall had a good afternoon, it was a pleasure to meet so many of your friends. Could I ask you to pass on our thanks to all the ladies and gents that attended, their generosity and support is really appreciated. Hopefully, we can build on this and make it an annual event. Once again, many thanks to yourself and all the members of your lodge, hope to see you soon."
It was a good day out for all, and everyone enjoyed the experience. Supporting and engaging with the community is a big part of what everyone in Freemasonry stands for, and at Bryn Masonic Hall we embrace that philosophy, and of course, we have fun along the way.