After 165 years in existence, Lodge of Unity No 613, held their first daytime meeting to mark the very special occasion of Cyril Gibbons reaching his golden jubilee in Freemasonry.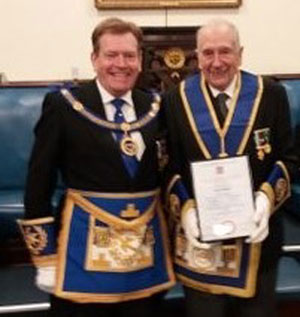 Cyril was initiated into the lodge on 13 January 1969 and 10 years later, Cyril became master for the first time in 1979 and then again in 2005 and 2006.
This 50th anniversary was marked by the presence of Assistant Provincial Grand Master Kevin Poynton, who kindly accepted the proffered gavel from WM Brian Ogden.
Kevin then went on to give a brief but humorous account of Cyril's life.
Southport Group Chairman Colin Jenkins then had the honour of reading out a certificate from the Provincial Grand Master Tony Harrison before it was presented to Cyril by Kevin to mark this auspicious milestone.
Approximately 30 of Cyril's friends were in attendance to help him celebrate at the festive board and to hear an excellent toast from his colleague and friend, Ron Ormandy.