The new season for Southport Group began in splendid style with the installation ceremony for North Meols Chapter No 5828, which is one of the largest chapters in the Province having in excess of 50 members.
It is also the mother chapter of our Grand Superintendent, Mark Matthews, who was in attendance at this installation as a member. The principal guest was Assistant to the Provincial Grand Principals David Barr, and Third Provincial Grand Principal designate.

Other senior companions present were Past Assistant to the Provincial Grand Principles, Christopher Hamilton, a Past Chairman of Southport Group and Brian Henshaw, also a Past Chairman of Southport Group. They are also members of North Meols Chapter. Another grand officer present was the Provincial Grand Treasurer Neil Latham.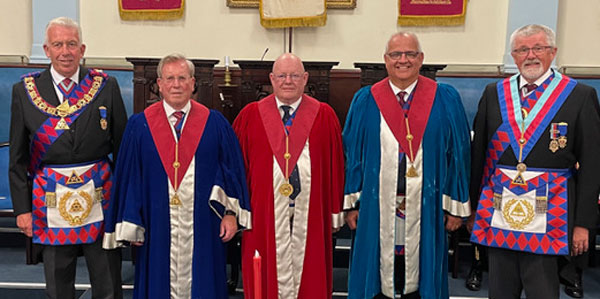 The ceremony of installation proved to be of the highest order, with Richard Alty as first principal, Paul Carson as second principal and John McGrady as third principal installing their successors; Paul Carson first principal John McGrady second principal and Paul Dwan as third principal. They were very ably directed by the DC for the night, Richard Snape.
The addresses were given by Christopher Hamilton to the three principles, Jeff Jackson to the chapter officers and David Barr to the companions of the chapter. This was followed by the robe addresses, which were presented in superb manner.
At the conclusion of the installation ceremony, David Barr brought greetings and congratulations on behalf of the Provincial Grand Superintendent, who happened to be sitting next to him at the time. He was then presented with cheques for charities, which included; The Masonic Hall Foundation, Queens Court, Hospice, West Lancashire Freemasons' Charity and the Macmillan Trust, all of whom each received £150.
The companions then retired to the festive board with over 50 companions attending. This proved to be a very happy occasion, during which David Barr brought his own greetings and congratulations to the three principals and all the companions. And of course, the Grand Superintendent toasted his fellow members of North Meols Chapter. A great evening was had by all!