When John Robbie Porter, Chairman of South Fylde Group began work on organising a celebration for members of the group who had been awarded honours, he could hardly have imagined that he would end up being one of the celebrants. However, fate doing what fate does best, he was in for a surprise.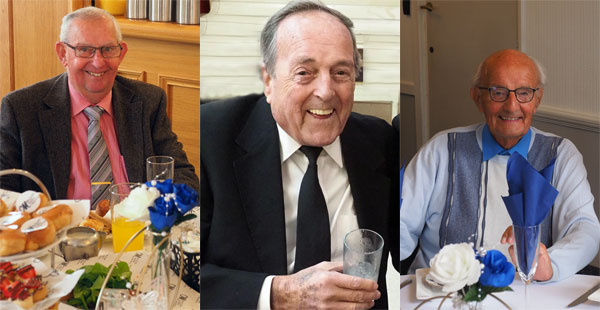 Afternoon tea was the order of the day and yet another opportunity for Lee Munro and his catering team to show just why they are considered by many to be the best Masonic caterers on the Fylde Coast. With a fine mixture of savoury and sweet foods presented on trays and traditional cake stands the Blue Room at St Anne's Palace was a dining room fit for a king.
The fine meal was washed down with tea and coffee served in the best china, or bubbly served in champagne flutes. If these didn't suit then John and Pam Nicholls were as busy as ever providing beer, spirits and soft drinks at the bar. All in all, the message was: "You will not leave here hungry or thirsty!" And nobody did.
In his speech near the end, John Robbie regaled those present with the names of all those celebrants who had received Craft honours, or who would be receiving Royal Arch honours. These included four members awarded acting offices who were David Jenkinson of Lodge of Triumph No 1061 and Robert Bentwood of Quadrant Chapter No 8044 who were existing Provincial Grand Stewards; John Bainbridge of Quadrant Lodge who was awarded Provincial Junior Grand Deacon and (with camera at the ready) group publicity officer, Glenn O'Brien, who will be receiving the acting rank of Provincial Assistant Grand Director of Ceremonies, which he has been awarded through his membership of Peace and Unity Chapter No 3966 in the Blackpool group.
Proceeding onto appointments Roy Sibley of Foxhall Lodge No 7484 received Past Provincial Deputy Grand Superintendent of Works in Craft, while group vice chairman Ben Gorry was awarded Past Provincial Grand Standard Bearer in chapter. Another group officer getting a significant Royal Arch appointment was group charity steward Dave McKee who will receive acting Provincial Deputy Grand Sword Bearer. We'll leave the big whammies for now and mention other hard working brothers and companions enjoying new regalia.
From Semper Fidelis Lodge No 4428, that slip of a lad in his 90's, George Coulter, has received Past Provincial Junior Grand Deacon 'in the field' which means he received his promotion during a special event at his own lodge. Also receiving promotion in the field was Peter Gratrix, who is a member of the Lodge of Triumph but received his field promotion to Past Provincial Junior Grand Warden in his other lodge which is Bispham-with-Norbreck No 4731 in the North Fylde group. This was on the occasion of his celebration of 50 years as a Freemason.
Another 50 year celebrant to receive promotion in the field was Clive Gitsham of Tithebarn Chapter No 8446. Clive was promoted to Past Provincial Grand Sojourner on that occasion. It has been a bit difficult keeping up with Clive this year, as he has also enjoyed celebrations of 50 years in Craft and another Masonic Order. He is showing no sign of slowing down either! Also receiving promotion to Past Provincial Grand Sojourner was the very hard-working Bill Hembrow of St Annes Chapter No 2457.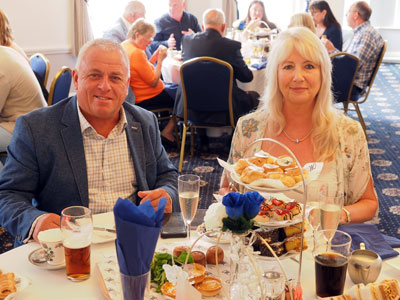 Other promotions included South Fylde Group Secretary Ian Park of Ansdell Lodge No 3607 and Provincial Events Coordinator John Topping of the Lodge of Triumph, who both receive the very high rank of Past Provincial Senior Grand Warden. Mike Notman and John Nicholls both of Ansdell Lodge who received Past Provincial Grand Sword Bearer in Craft and Mike Lumby of Fylde Chapter No 2758 who receives the same rank in that degree.
From Fairhaven Lodge No 5076 the secretary Kevin Burns was awarded Past Provincial Grand Superintendent of Works. Also receiving Past Provincial Deputy Grand Superintendent of Works in Craft were, Shaun Keane, Mike Heed and Grahame Whattam all of Tithebarn Lodge. No 8446.
By the end of John Robbie's speech, it was quite clear that the room was full of hard-working members who had been justly rewarded for their efforts. Then Ben Gorry rose to say a few words. Largely because John Robbie had forgotten one or two important recipients, himself for one! With the announcement that Third Provincial Grand Principal Godfrey Hirst was to retire from that position, a whole chain of outcomes had followed. Godfrey is to be succeeded by Dave Barr, who at present is the Assistant to the Provincial Grand Principals; Dave is to be succeeded in that role by John Robbie Porter, who in turn will be succeeded as group chairman by Ben Gorry, who by extension will be succeeded as vice chairman by Ian Park. The new group secretary hasn't been announced yet but phew, that's enough news for this article to be going on with!
From the buzz in the Blue Room it was quite clear that there was a great deal of joy and excitement in the air. Certainly nobody departed hungry or thirsty. Everyone was looking forward to the future with confidence as they wended their ways home. Then, with an empty Blue Room in need of attention, John and Pam quietly got on with preparing things for the next event. The caterers cleaned up and made ready too. Then all was still and at peace.