It was a very special installation at Townley Parker Lodge No 1032 when Simon Dalley installed his father Michael Dalley into the master's chair – and not for the first time!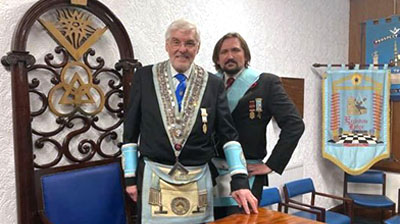 Michael was installed for the first time 46 years ago and Simon then installed him in 2019 into the chair of Townley Parker and he carried on in the chair during 2020 because of the COVID lockdown. He was due to hand over the reins at the 2021 installation but unfortunately the 'planned' replacement couldn't take the chair due to ill health.
So the stage was set for Michael to be installed for the second time by his brother and son, in the presence of principal guest David Asbridge and Chorley and Leyland Group Chairman David Bishop.
The evening saw various people taking the chair in what some jokingly called a tag team installation. WM Michael Dalley opened the lodge and had started proceedings by holding a ballot for not one but two new members. He then tagged Peter Leigh to take control of the lodge.
As the ceremony progressed, Peter invited Simon to take the chair so that he could install his father – a truly special occasion for all to witness. All present then observed a warm and sincere ceremony, delivered with great love.
With Michael installed, Simon then handed back to Peter to continue the ceremony in which the working tools were delivered by David Hooley and newly promoted Simon Brooks, both in an exemplary manner. Michael then proceeded to appoint his team for the year, with new member Andy Howarth taking the role of junior warden on his first day in the lodge. The evening was topped off with Simon delivering the address to the master, his father and brother; a moment to remembered for some time.
With the ceremony over, Michael immediately presented charitable donations amounting to £1,100 to Provincial representatives, with a very kind and sincere response being given by David Asbridge.
Members and guests proceeded to the function room to enjoy a three-course dinner, followed by a series of toasts celebrating the ceremony and the achievements of the lodge. Lastly, no festive board would be complete without a raffle which on this occasion raised the sum of £135 for charity. The evening set the tone for a very exciting year ahead.