Silverdale Lodge No 6926 has made a donation of £500 to the appeal for funding to fix the roof of St John's Church of England Primary School, Silverdale.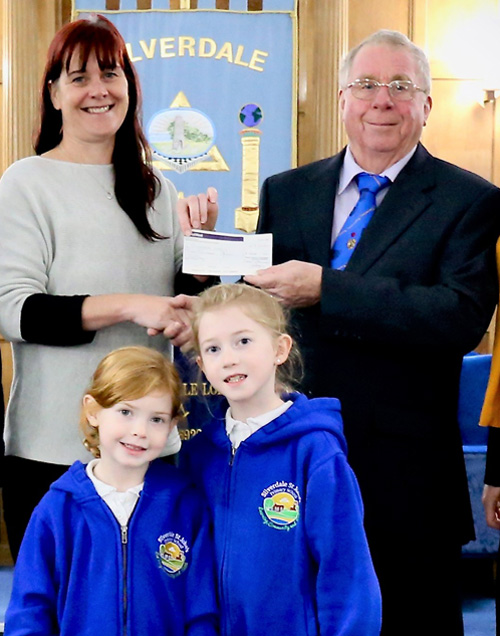 Head teacher Katie Walsh and chair of governors Jim Bennetts, with others from the school, were invited to the Silverdale Masonic Hall to receive a cheque. Katie Walsh thanked the Masons for their admirable generosity and Jim Bennetts said: "This really gladdens my heart. It is wonderful that a key village institution, with a philanthropic focus, joins with us in striving to do the best for the children and young people of our community. The children of Silverdale are our future." WM Tony Dickinson, who made the presentation, said: "Freemasons are always happy to help where they can with local good causes, especially those that impact on children's welfare."
Silverdale School was built around 130 years ago and, along with St John's Church, was endowed by the Boddington brewing family, who at that time owned Cove House in the village as a country residence. Extensions to the original school building have flat roofs, which are in a bad state and leaking. The repairs will cost £130,000. St John's Primary is a Church of England Voluntary Aided School. Running costs are paid by Lancashire County Council, but the Church of England owns the building. By longstanding agreement, the local community is called upon to raise 10 per cent of costs relating to the building. The Parochial Church Council makes a contribution, as do the Ripley Trust and Friends of Silverdale School.
Following the appeal launch. Jim Bennetts said: "The roof job is a big one. We are beholden to all our friends in the village for the help they can give us." Anyone who can help with a donation or by running an event is asked to contact Jim Bennetts on via the school at;  head@silverdale.lancs.sch.uk