It was another ceremony for Carnarvon Lodge No 2376 and another important day for Stuart McGrath who was looking forward to being passed to the second degree in Freemasonry, after joining Freemasonry in January 2023.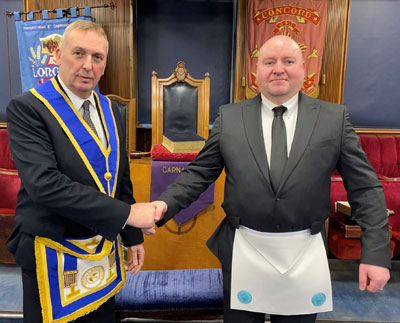 After speaking with Stuart following his initiation in January, it was clear to see that he was eager to learn more about Freemasonry and keen to get involved with the great work its members do both inside and outside of their respective lodges. Stuart had even purchased his master Mason's apron on learning of his initiation date towards the end of 2022.
For the past two years, Carnarvon Lodge has successfully delivered a ceremony at every meeting and with such young, new and active members joining, supported and mentored by the more experience members, the lodge place a special importance on each individual meeting.
The ceremony itself was very well delivered, with each officer putting on a good show and making sure that Stuart was well looked after during the ceremony. Graham Roberts, the lodge secretary, stepped in as master for the ceremony and also delivered the second degree working tools.
All but the office of the master, David Robinson, is currently taken up by new light blue Freemasons, who are all making their way up the ladder to being masters of Carnarvon Lodge. With this injection of fresh experiences and ideas each officer does their best to give each candidate and brother a memorable ceremony to remember.
These thoughts were shared by Stuart and the other new members of Carnarvon Lodge who have recently joined and eagerly looking forward to their third degrees. It's great to hear that such a close connection with new members has already been built and that it will be shared with future new members.
The highlight of the ceremony was the delivery of the second degree tracing board which was perfectly presented by the lodge's junior deacon Dr Michael Kipping. His mastery of the pointing stick and storytelling of the tracing board was mesmerising to watch and listen to, so much so that I thought there was going to be a standing ovation at its end.
To complete a successful evening, the festive board was full of laughter and great conversation between the lodge members and their welcomed guests. With another second degree to come and four third degrees on the horizon for Carnarvon Lodge, there is no sign of slowing down which is a great position to be in.