For the past three years the Leigh Group has secured the services of Santa Clause for the benefit of children and grandchildren of the Leigh Group members.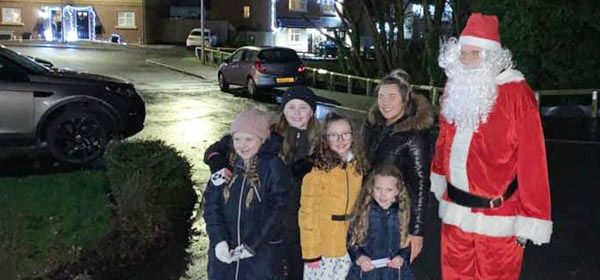 It has always been a fun filled festive affair, the children's Christmas party at Leigh has been thoroughly appreciated and enjoyed by 100s of children over the years. This year however, due to circumstances beyond the control of even Santa Clause, the party has had to be postponed.
Of course, Leigh Santa Mark Rainsford, master elect of the Marquis of Lorne Lodge No 1354, was distraught at the postponement of the Christmas party. In recent years the role had become one of pride and enormous pleasure for Mark and he was frequently moved by the wonder and amazement in the children's eyes as he met them and gave out seasonal gifts.
Such was Mark's enthusiasm for this extra special role; and his dismay recognized by those nearest and dearest to him, he was volunteered by his wife Sue, to turn up in full Santa Clause regalia, at Sue's sister's nursery. Such was the delight that word soon spread into the surrounding streets and before too long he ceremoniously paraded through whole estate, working into the night, delivering those extra special gifts of happiness, joy and wonder to dozens of enthralled local children. Well done Santa!