Sandylands Chapter No 5702 held its 2023 installation convocation which was attended by David Thomas, Past Grand Standard Bearer, representing the Grand Superintendent Mark Matthews.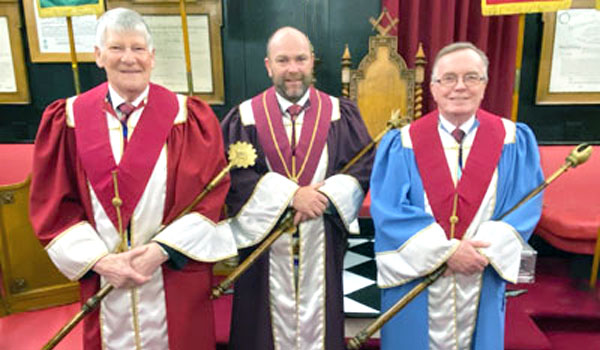 Mark was accompanied by Past Grand Superintendent Tony Harrison and grand officers John Robson, with Lancaster Group Chairman Neil McGill and group secretary Chris Larder. Acting Provincial grand officers in attendance were Provincial Grand Almoner Paul Broadley; Provincial Grand Organist David Tattersall and Provincial Grand Steward Kevin Byrne.
The ceremony was conducted by director of ceremonies Keith Lamb. He proclaimed the three principals in record time. Paul Thompson as third principal; Stephen Fox as acting second principal and Carl Horrax as first principal. Second Principal Mike Craddock has been unwell over the past year and in order to give him time to recover, the chapter made the decision for the principals and most of the chapter officers to remain in post. Donald Polson stepped down as treasurer and David Liptrott has taken over this role.
No robe addresses were given as the three principals remained in office. A cheque for £300 made out to the West Lancashire Freemasons' Charity was presented to David Thomas by first principal Carl Horrax. David offered his thanks to the companions of the chapter for their generosity.
After the business of the chapter was completed, the chapter was closed and 24 companions dined at the festive board. The toast to first principal Carl Horrax was given by Frank Heath.
Carl was initiated into Silverdale Lodge No 6926 in February 2010 and was WM in 2018, He is currently director of ceremonies of the lodge. Carl joined Sandylands Chapter in 2013 and was installed as first principal in 2022.
Carl has run his own landscaping business since 2004 specialising in artificial grass lawns and home putting greens. For the past 18 months he has lived in Garstang and he says that he plans to retire in 10 years' time as he turns 50 in October and is single and currently looking for a rich lady who wants to play golf as much as possible.