Fylde Chapter No 2758 started the season off with a sensational beginning with the North Fylde Group's first installation after what seems like an eternity because of the COVID-19 lockdown.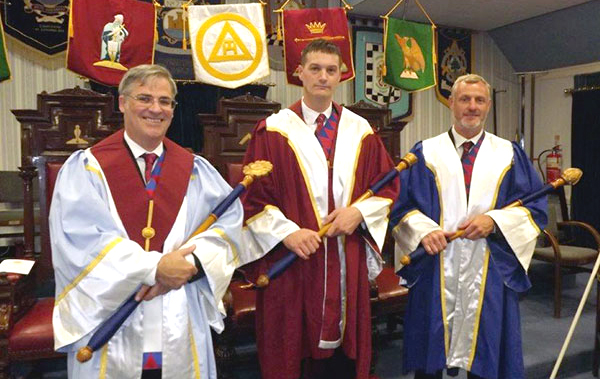 There were 45 companions gathered at Cleveleys Masonic Hall to watch the chapter's principals take on their new roles in a ceremony that showed that the bond of the companions had remained strong throughout the pandemic.
The principal guest was Chris Reeman. Joining Chris were fellow grand officers Malcolm Worsley, David Randerson, Peter Greathead, Stuart Thornber and Ian Ward, together with Andrew Bartlett, David Harrison, Keith Jackson and North Fylde Group Chairman John Cross.
The chapter was opened by David Edwards and his co-principals Paul Darlington and Ryan Modlin who dealt with the administrative work of the chapter before formally welcoming Chris Reeman and his disguised entourage to the evening's festivities.
Before the installation, the first principal asked the chapter to stand and pay solemn respect for the passing of respected member John Moss who had passed to the Grand Chapter above during the lockdown.
Once the installation had begun, each principal was presented by John Lee and recited their respective obligation. Chris William acted as installing scribe Nehemiah, Michael Lumby occupied the third principal's chair and Edwin Fisher occupied the second principal's chair.
During the conclaves for installed principals', each principal was installed into their respective chair, Ryan Modlin into the first principal's chair, Paul Darlington into the second principal's chair and Creag Williams into the third principal's chair.
The conclaves completed and the companions having been readmitted, the robe addresses were delivered in style starting with Ian Chetwynd delivering the scarlet robe address, Geoff Diggles the purple robe address and lastly Chris Williams who delivered the blue robe address. John Cross followed in no lesser style by delivering the address to the three principals, leaving the final address, that to the companions, in the hands of the principal guest Chris Reeman. On completion of the ceremony Chris rose to convey the greetings of the Grand Superintendent Tony Harrison
The companions enjoyed a lively and joyous festive board unfettered by many of the restrictions that had become common place over the past months, reaffirming friendships and regaling each other with many a tale.
The principal's song was sung by David Harrison accompanied by Keith Jackson and a raffle raised £265 for charity.