A most memorable night was had by all at the Antient Briton Lodge No 1675 installation of Russell Mundy in the presence of the Assistant Provincial Grand Master John James, who was accompanied by David Johnson the Liverpool Group Chairman.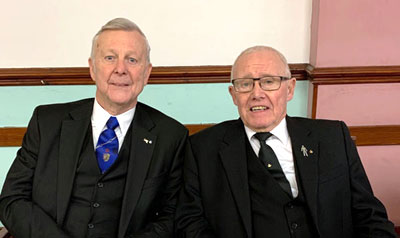 Part of the Liverpool Group, as the name suggests, Antient Briton Lodge was formed in 1877, originally for those of the Welsh diaspora residing or following their occupation within the Liverpool area and consecrated on 24 April within the Liverpool Masonic Hall on Hope Street.
The installation for 2023 saw all present witness a very confident and competent installing master, John Fegan, alongside DC Ed Mawdsley, deliver the whole ceremony in an impeccable manner which was a pleasure to observe. The delivery of the working tools for a master Mason was given by Andrew Beddison, Patrick Smith delivered the working tools for the second degree, presented and explained the elongated version, while Andrew returned to the pedestal for the working tools in the first degree.
Russell then invested his officers for the ensuing year. The address to the master was performed flawlessly by Roy Ashley with the address to the brethren of the lodge given in the same manner by John James. John later remarked how he was impressed with the excellent ceremony carried out with dignity and humour.
John was presented with several donations on behalf of the lodge by the newly installed master Russel Mundy which consisted of £100 to the Liverpool Masonic Hall, £100 to Macmillan Home, two donations to the West Lancashire Freemasons' Charity, one for £100 the other for £125, and £200 to the Walton Centre.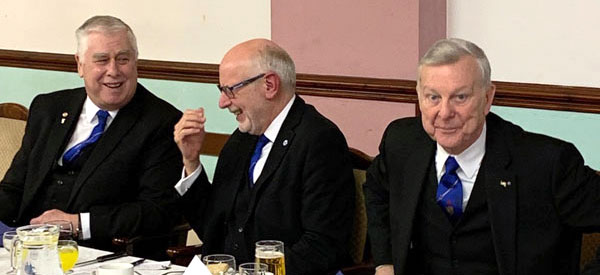 Following the meeting, the festive board was to a very high standard once again, with an excellent menu choice of fishcake, a main course of braised beef, finished by a cheese platter. After the meal the customary toasts were observed.
The atmosphere was convivial with the right proportion of dignity and humour throughout. It was obviously a very happy lodge. John James assured everybody that John Roberts would be looking on with pride from above, and with his usual sense of humour. He spoke of the drive for recruitment (particularly the Royal Arch going forward). John expressed his personal congratulation to group chairman Dave Johnson on his appointment to grand rank which received hearty applause from the brethren.
The highlight of the evening was of course the Master's Song, sang beautifully by Roy Ashley with great gusto adding to what had been a superb festive board with great food and lively banter throughout. A bottle of liquid refreshment was presented to John James by the WM as the evening tide closed with the tyler's toast.