The brethren and visitors of Royal Protector Lodge No 3471 were delighted to receive Gareth Jones, (South Eastern Group Chairman), as representative of the Provincial Grand Master Tony Harrison, to their 110th installation ceremony to witness Stephen Campin being installed as master for the ensuing year.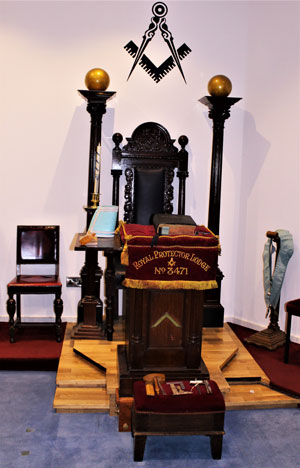 The lodge was opened at 6:00pm and WM Mike Walker conducted the normal lodge business and opened up to the second degree. At this point the installing officers were appointed, with Peter Harding as installing senior warden, Bill Young as installing junior warden and Bob Murphy as installing inner guard.
Gareth, accompanied by fellow grand officers Brian Hayes Mike Adams, David Durling and Tony Johnson (fresh from celebrating his 100th birthday) entered the lodge room, also present were group officers and other Provincial grand officers and distinguished visiting brethren.
The installation commenced and Mike progressed steadily through the ceremony placing Stephen into the chair of King Solomon in a very solemn manner with excellent renditions of the third, second and first degree working tools by John Griffiths, Steven Firth and Norton Fletcher respectively.
Stephen, having installed his new lodge officers for the year, Mike Adams gave an excellent address to the wardens followed by Gareth, who gave a very sincere address to the brethren of the lodge thus completing the installation ceremony.
The ceremony having been completed, Gareth rose once more, this time bringing the greetings, congratulations and good wishes for a happy, healthy and enjoyable year ahead from the Provincial Grand Master Tony Harrison.
Gareth said that had Tony been present he would have witnessed an excellent ceremony and congratulated Stephen on taking the chair once more which, he said Tony was of course aware of and thanked him very much.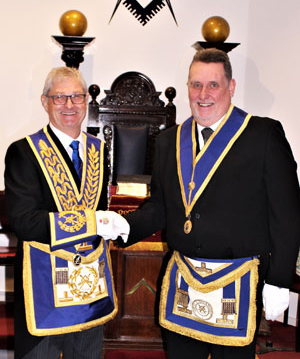 Gareth also said that Tony would have wished to be present to witness the ceremony conducted by lodge director of ceremonies Stan Parkinson and all the other officers and would have thanked them for their excellent work during the evening.
In response, Stephen thanked Gareth for the very kind wishes from the Provincial Grand Master and said he was happy to once more take the master's chair to allow the younger brethren time to prepare for the future and was pleased at that point to offer Gareth two envelopes complete with charitable donations.
Gareth, having sought the master's permission revealed the contents of the envelopes which were cheques for £200 made out to the MCF 2021 Festival and £200 to the Masonic Hall Fund for which Gareth thanked the lodge for their very generous donation. There then followed a third envelope containing a donation to Francis House which was made up to a magnificent grand total of £700 by donations garnered from guests at Tony Johnson's recent 100th birthday party!
Following the first rising, former South Eastern Group Chairman David Durling reiterated Gareth's congratulations and added his own, saying how much he had enjoyed the ceremony.
The evening was rounded off with a cheerful and harmonious festive board and a thus an excellent night was concluded in good humour and friendship.