Founded in 1940, West Derby Castle Lodge No 5821 has completed its annual installation ceremony in the Adams Suite of Liverpool Masonic Hall on Hope Street. The lodge was opened in due form by the WM Paul Devereux ably assessed by his wardens and officers.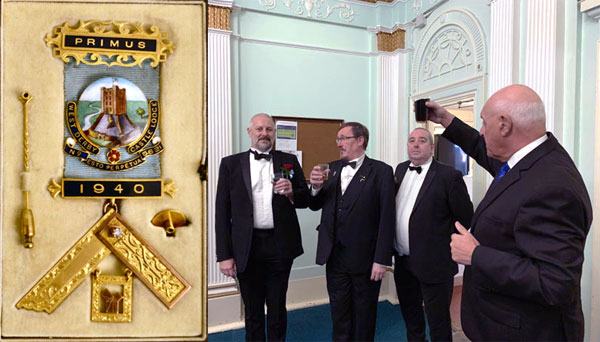 On completion of standard lodge business, the WM was pleased to welcome Steve Kayne representing the Provincial Grand Master Mark Matthews as the principal guest. Steve, on this occasion, was accompanied by the Chairman of Liverpool Group David Johnson and fellow grand officer and a former Liverpool Group Chairman David Hawkes.
After completing all the formalities and salutations, master elect Roger Boyle was installed into the chair of King Solomon by Paul Devereux, assisted by director of ceremonies Tom Grimes. During the board of installed masters, the working tools of an installed master were presented and explained by Tom Grimes, In the later perambulations, his son Callum Grimes did those of the master Mason, Tom covered the fellow crafts, with James Thomas those of the entered apprentice Freemason.
The address to the WM was delivered by Bob Cooper, the address to the wardens by Les Crane, and as is customary the principal guest Steve Kayne delivered the address to the brethren of West Derby Castle Lodge. Roger Boyle as the newly installed WM had the pleasure of presenting four cheques on behalf of the lodge, each for £100. The recipients being the Friends of Tithebarn, the West Lancashire Freemasons' Charity, the Liverpool Masonic Hall Building Fund and SSAFA, thus making a total of £400.
On completion of the ceremony, the brethren retire to the adjacent dining room for the festive board. It was here that Steve offered his congratulations to the WM Roger Boyle hoping he had a happy, healthy and busy year ahead. Steve also took the opportunity to thank all those who had attended the meeting and to thank Dave Johnson for his work within the Liverpool Group.
The catering was of the usual high standard with the meal starting with a delicious cream of mushroom soup, a fish pie with fresh vegetables, apple pie and cheese and biscuits. It was an enjoyable evening all round with an excellent ceremony and emotional for Dr Alan Boyle to see his son Roger installed in such a dignified manner. Dave Johnson commented how nice it was to see the involvement of 'light blue's', Callum Grimes and James Thomas presenting and explaining the working tools.
The evening finished with the presentation of a beautiful bouquet of flowers from the lodge to both Steve Kayne and Dave Johnson for delivery to their respective wives.