Brethren of Rivington Lodge No 8013 celebrated the installation of David Scott into the chair of King Solomon for a second term at a well-attended meeting at Westhoughton Masonic Hall.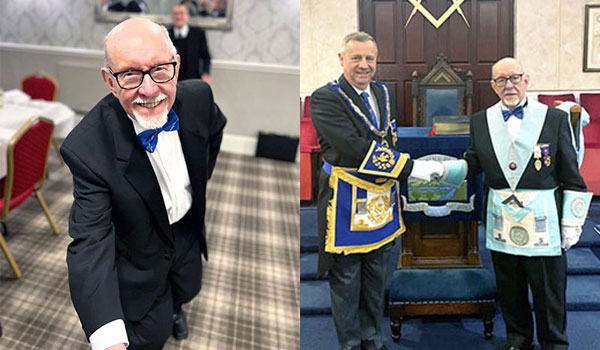 With David assuming another year as master of the lodge, it affords Garry Longthorne the opportunity to be the master for the next year and to install his son Jack into the chair of King Solomon the following year.
That is always a rare and memorable celebration for any lodge and the Craft in general and will be greatly looked forward to with excitement by Rivington Lodge brethren, the Chorley and Leyland Group and no doubt, West Lancashire Freemasonry in general. It is great to see lodges making plans for their future installations and bringing families closer through joining Freemasonry together.
The lodge enjoyed the presence of Assistant Provincial Grand Master Peter Lockett, along with the attendance of acting Provincial grand officers Ian Simm, Anthony Price and Mark Humphrey. The Chorley and Leyland Group was also represented by group vice-chairman David Bishop, making a fine deputy for Peter Allen who had succumbed to automobile gremlins en route to the evening's celebrations.
Grand Lodge was further represented by Ian Higham and Stephen Gregory who, along with all other attending brethren, enjoyed fine ritual being worked. The address to the wardens was delivered by Malcolm Lunt, with Peter Lockett giving an ever-fine address to the brethren of the lodge.
Of note was the delivery of the working tools in each degree by light blue brethren of the lodge, namely Shaun Bilsborough delivering the moralisation of the third degree tools, Darren Holmes the second degree tools and Floyd Allen completing that trinity with an explanation of the first degree working tools. Overall, a fine evening was had by all, with the exceptional news that Rivington Lodge has donated near to £6,000 to charity throughout the previous season (£5,864.20).
The evening was ended with a friendly and lively festive board and it was clear to see that Rivington Lodge members were proud of the work they had put into the ceremony and also for the future of their lodge.