Southport Group and Ormskirk and Bootle Group Regional Charity Steward Malcolm Sandywell joined the other riders for the annual Blackpool 'Ride the Lights' fundraiser. For this event the road is closed to all traffic and only cycles are allowed.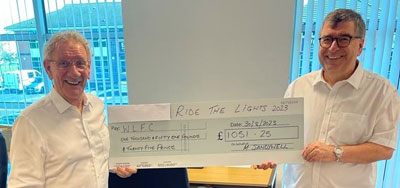 The Blackpool illuminations were switched on at 19:00hrs and for the 1,000s of cyclists who took part in the Ride the Lights and to ride both ways along the full length of the Blackpool lights from Starr Gate to Bispham, or the other way round depending on where the riders started from, it is an incredible sight to see.
This year the donations were raised in support of the West Lancashire Freemasons' Charity, and Malcolm would like to thank all those who sponsored him in raising the magnificent sum of £1,056:25. The very next day following the ride, Malcolm presented the cheque to Paul McLachlan, the Chief Financial Officer for WLFC, luckily for Malcolm, who works in the WLFC charity office, he was able to present the cheque the morning after the ride.