Companions of Scorton Chapter No 5791 held their 2023 installation convocation attended by Third Provincial Grand Principal Godfrey Hirst. Godfrey was accompanied by Assistant to the Provincial Grand Principals Barrie Crossley and grand officer Keith Jackson.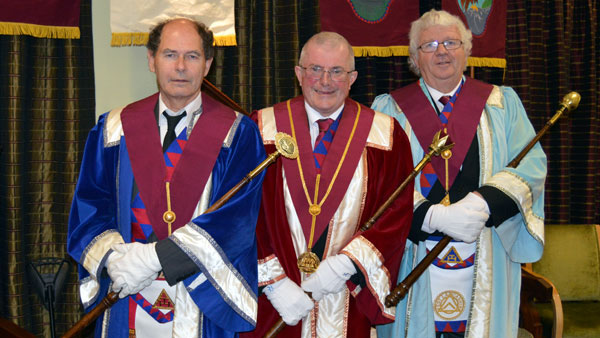 Also present were Lancaster Group Chairman Neil McGill and group vice chairman Scott Devine. Acting Provincial grand officers in attendance were Provincial Grand Scribe Nehemiah David Jopling, Provincial Deputy Grand Director of Ceremonies Jason Dell and Provincial Grand Steward Ken Needham.
Peter Grisdale was invited to act as installing scribe Nehemiah by first principal Bill Williamson. The ceremony was conducted by assistant director of ceremonies Frank Hogarth who presented the three principals. Bill Williamson became third principal; Stephen Parker was installed as second principal and John Helme was installed as first principal for a second time having previously been first principal in 2016.
The robe addresses were given by Ranald Fisher to the third principal, Robert Bradshaw to the second principal and Harry Parker to the first principal. A £750 cheque for the West Lancashire Freemasons' Charity was presented to Godfrey Hirst by immediate past first principal Bill Williamson. Godfrey thanked the companions of the chapter for their very generous donation
Following the installation ceremony, 26 companions dined at the festive board. The toast to first principal John Helme, was given by director of ceremonies Peter Grisdale. The raffle at the festive board raised £128.
First principal John was a farmer having retired 5 years ago. He married his wife Val in 1977 and has four daughters Elizabeth, Caroline, Gemma and Clare and seven grandchildren. John enjoys all country pursuits and has taken up golf, although not yet very successfully.
John was initiated into Pilling Lodge No 7879 on 16 February 1993 by his father David, who was WM of the lodge. John was WM from 2007 to 2008 and was exalted into Scorton Chapter on 23 February 2009, working his way through the various offices culminated in his election as first principal on 24 April 2016. John is currently director of ceremonies at Pilling Lodge.