At its November 2021 convocation, Red Triangle Chapter No 3874 hosted a visit of the Provincial Grand Stewards' Chapter of West Lancashire No 8516 demonstration team at Woolton Golf Club where the seldom-seen ceremony of 'Passing of the veils' was demonstrated.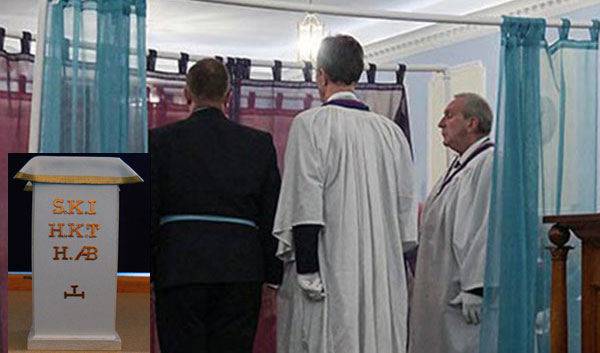 Before the demonstration, first principal Mike Fox, accompanied by second and third principals Alan Routledge and Ian McGovern entered the chapter and opened proceedings in step with normal custom. A warm and friendly welcome was extended to the companions and guests by Mike.
Deputy Provincial Grand Director of Ceremonies Ian Halsall entered the room and announced that the Deputy Grand Superintendent Paul Renton stood without and demanded admission. The companions stood while the procession of grand and acting Provincial grand officers entered, escorting the Deputy Grand Superintendent, accompanied by Second Provincial Grand Principal Chris Butterfield and Third Provincial Grand Principal Rev Canon Godfrey Hirst.
The three principals welcomed Paul and offered him the sceptre of the chapter and on this occasion Paul accepted the sceptre, as did Chris Butterfield and Godfrey Hurst and each took their respective chairs for the demonstration.
The ceremony shows the historical link between Craft Masonry and the Royal Arch. Over 60 companions were present and witnessed the journey of a master Mason passing through the four intervening steps prior to his exaltation.
The demonstration team, led by Deputy Grand Superintendent Paul Renton, performed the ancient ceremony to perfection and to the enjoyment of the entire audience. There was plenty to learn from this 'lost' ritual which showed how parts of the modern ceremony had been derived and gave new insights and understanding of the Royal Arch degree.
At the end the demonstration Paul handed scribe Ezra Joe Muscroft of Red Triangle Chapter a miniature pedestal containing a notebook recording the passing of the veils ceremony. The pedestal and notebook will stay with Red Triangle and will be passed to the chapters within the Woolton and Garston, Gladstone and Liverpool Groups when they host a demonstration or presentation.
After the convocation, the companions enjoyed an excellent festive board. The event had been superbly organised by the scribe Ezra Joe Muscroft and the companions extended congratulations to the demonstration team – not least to David Atkinson who acted as candidate for the ceremony. A raffle was held at the festive board and raised £280 for charity.